Existing and future Research Infrastructures connected to SITES Svartberget
A workshop at SITES Svartberget Research Station, within Vindeln Experimental Forests, took place on Sept 6-7, 2022, with a focus on existing and future research infrastructures (RIs) in the area. The main objective of the workshop was to 1) exchange information about the RIs, 2) discuss ways to optimize and maximize the potential synergies between the RIs, and 3) discuss possible research activities and research papers made possible by the RIs establishments. In total, 23 persons participated in the workshop, representing specific RIs in the Vindeln area. A main outcome from the meeting resulted in plans to apply for funding to create and develop environments that support research collaborations around a common theme connecting the RIs.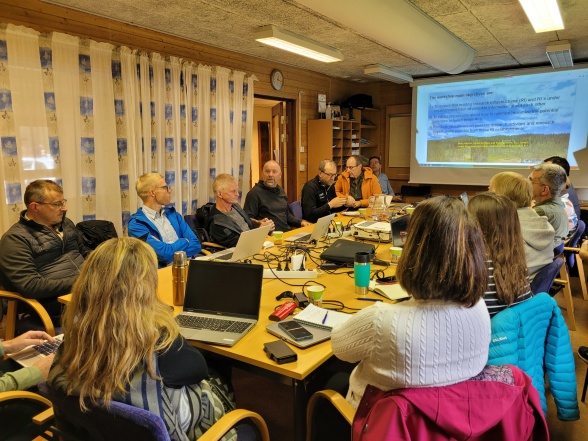 Currently SLU Svartberget contributes to three geographically distributed RIs, all supported by the Swedish Research Council (VR); SITES (Swedish Infrastructure for Ecosystem Science), ICOS Sweden (Integrated Carbon Observation System) and ACTRIS Sweden (Aerosol, Clouds and Trace Gases Research Infrastructure). In addition, the tower-based radar at Svartberget, BorealScat-2, is a recently established RI. Overall, the RIs at Svartberget reflect a broad ecosystem research focus; from long-term forest management trials and their effect on forest production and diversity to water and carbon balance of boreal ecosystems, as well as studies of the direct climate effects of short-lived climate forcers such as aerosols.

Since SITES formation in 2012, Svartberget has played an active role in the RI and includes activities related to the terrestrial environment, such as long-term experimental forest trials and the Krycklan catchment, and the three SITES Thematic Programs – Spectral, AquaNet and Water. Svartberget will continue these activities during SITES next funding phase (2023 – 2028) with plans to develop the connection between SITES activities to other RI activities ongoing at the station and the surrounding area as explained below: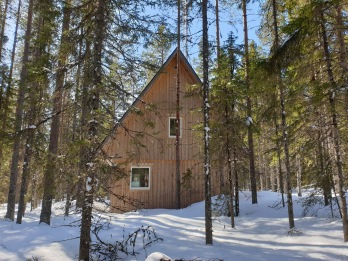 ICOS
ICOS is a European research infrastructure, formed in 2008, with the aim to provide accessible, high-quality data to improve the understanding of greenhouse gas sinks and emissions and to contribute to measures aimed at limiting the climate impact. All stations in the national networks across Europe follow the same standardized protocols for data gathering. The measurement data are sent to central ICOS facilities where they are quality controlled and processed before being forwarded to the ICOS Carbon Portal and made available to users (Link to data here). SLU contributes with three measuring stations within Vindelns Experimental Forests; an Atmosphere station and an Ecosystem station located in the coniferous forest at Svartberget and an Ecosystem station located on the mire at Degerö, Kulbäcksliden experimental forest. The Atmosphere station measures the amount of greenhouse gases in the atmosphere at different levels up to a height of 150 meters. The purpose of the two Ecosystem stations is to understand the uptake and release of greenhouse gases, primarily carbon dioxide (CO2) and methane (CH4), how they are affected by climate change and to understand whether the northern forests and mires causes an increase or counteracts the greenhouse effect. At the Degerö station, continuous measurements of the biosphere-atmosphere exchange of CO2 by eddy covariance already started in 2001, before becoming an ICOS Ecosystem station.
ACTRIS
ACTRIS is a pan-European research infrastructure initiated in 2011 that provides a network of stations that observe short-lived climate forcers (SLCF). The SLCFs have a short residence time in the atmosphere and include airborne particles, aerosols, and reactive trace gases. The Swedish branch of the research infrastructure is run by ACTRIS Sweden with six organizations (Lund University (Coordinating), Stockholm University, Gothenburg University, SLU, SMHI, and Uppsala University) currently taking part in a 5-year implementation phase. ACTRIS Sweden has chosen to co-locate its measuring stations with the ICOS infrastructure and from 2022 also at Svartberget.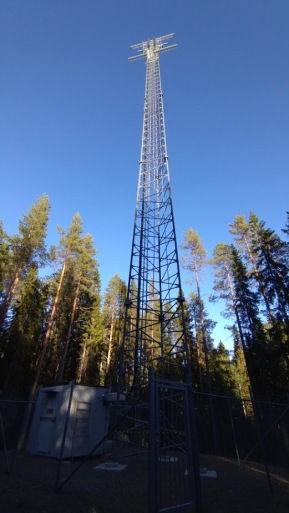 BorealScat-2
BorealScat-2 is a radar tower experiment established in 2022 at Svartberget Experimental Forest for studying temporal variations in forest radar measurements. The tower, previously used in the BorealScat experiment in Southern Sweden, has been relocated and upgraded. The aim is to investigate forest moisture variations in P-/L-/C-/X-band tower-based radar observations and to develop methods for estimating forest evapotranspiration from space borne radar observations. Evapotranspiration plays a central role in the carbon, water and energy cycles and is closely related to drought-induced tree mortality. Radar observations are directly sensitive to the spatial distribution of water. By establishing a relationship between radar observations and variables contributing to evapotranspiration, space-borne radar is expected to contribute to high spatial and temporal resolution of evapotranspiration observations.