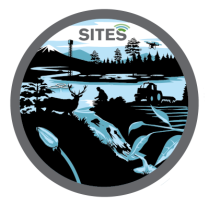 SITES (Swedish Infrastructure for Ecosystem Science) is a national infrastructure for terrestrial and limnological field research. SITES aims to promote high-quality research through long-term field measurements and field experiments, and by making data available.

The core of SITES is nine field research stations that represent a variety of Swedish climate zones and ecosystems, including agricultural land, forests, wetlands, lakes and streams. The purpose of SITES is to offer researchers, regardless of institution, well-functioning and infrastructures for field research. SITES also runs several long-term data collection programmes that provide researchers with contextual data.
SITES is funded by the Swedish Research Council, together with the principals of the research stations. The coordinator of SITES is the Swedish University of Agricultural Sciences (SLU), where also the secretariat is located.
The collaboration is regulated by a consortium agreement between the principals. SITES is governed by an independent steering group and the daily work is led by a scientifically well merited director.

Read more
SITES Background and Formation
The Council for Research Infrastructures (RFI) at the Swedish Research Council published a report on the current state of research stations and other field-based infrastructure for ecological and environmental research in terrestrial and freshwater environments in 2012.

The report showed that there was a large number of stations with the potential to serve as a national resource for research. Based on the report RFI decided to allocate funds for a national infrastructure of field-based research facilities and research stations for terrestrial and freshwater ecology and environmental research. A call was made in 2012 in which universities and other research organizations were to nominate stations to be included in the infrastructure. The nominations were reviewed by a panel of international experts, who gave recommendations on which stations qualified to be part of the collaboration and how the infrastructure should be developed.

Read more
SITES contributes to long-term, field-based ecosystem research at world-class level by offering a unique infrastructure and competence in a way that attracts Swedish as well as international researchers.
University of Gothenburg
Swedish Polar Research Secretariat
Swedish University of Agricultural Sciences
Uppsala University
Steering group (2021-03-01 – 2024-02-29)
Anna Gårdmark, Swedish University of Agricultural Sciences, chair

Anders Hedenström, Lund University, vice-chair

Jan Bengtsson, Swedish University of Agricultural Sciences

Johan Bergh, Linneaus University

Inger Kappel Schmidt, University of Copenhagen

Jan Karlsson, Umeå University

Hanna Silvennoinen, Norwegian Institute of Bioeconomy Research
Scientific Advisory Board (2021-02-01 – 2024-02-01)
Mari Kallersjö, chair

Göran Ståhl, Swedish University of Agricultural Sciences, vice-chair

Klaus Steenberg Larsen, University of Copenhagen

Gerlinde de Deyn, Wageningen University & Research

Kathleen Weathers, Cary Institute of Ecosystem Studies