Large-scale mapping of microflora in European lakes
02/09/2021
« Back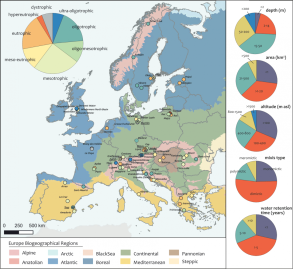 Have you ever wondered about the invisible bacteria, archaea, viruses and protozoa hiding in our lakes? Each drop of water contains millions of unicellular organisms that cannot be seen with the naked eye, and in order to map and describe the diversity and function of these organisms, we need to use new methods based on their genomic information.
In the project called "PELAGICS" (Pan-European Lake Sampling - Microbial Eco-genomics), an international group of researchers use new genetic methods to map freshwater microbial diversity on a European scale. Under the leadership of
Michaela Salcher
and
Rohit Ghai
, both from the Czech Republic, 70 large lakes, located in 16 European countries, will be sampled for both bacteria and protozoa. The samples will be used to isolate cultures of bacteria and protozoa, that will be analysed using cultivation methods, and, furthermore, sequencing of the total microorganism genome (metagenomics) will be done.
The most recent country visited by the PELAGICS sampling team was Sweden, where researchers collected bacterial samples from Lakes Mälaren, Erken, Vänern, Vättern and Torneträsk. By establishing a collaboration with the SITES Research Stations
Abisko
and
Erken
, as well as county administrative boards and the tourism industry, sampling efforts have been organized efficiently and safely and a broader collaboration formed.
The project will produce a large amount of sequencing data (20 Tb) in the coming months, and researchers hope that the data will help answer several challenging questions, such as, which organisms make up the freshwater microflora and their distribution in Europe. The researchers also hope to answer more general questions concerning species formation of microorganisms and local evolutionary adaptations.
For the Swedish part of PELAGICS, Professor
Stefan Bertilsson
(SITES Director/SLU), Dr.
Matthias Hoetzinger
(SLU) and Professor
Silke Langenheder
(Uppsala University) are participating.