The field season in Abisko is in full swing
07/06/2023
« Back
The Abisko Scientific Research Station field season started in earnest on June 1st. The station will be fully occupied in July, and the occupancy will remain high even in August and September. The ten-bed field hut in Latnjajaure will have researchers on-site throughout the summer.

The Director of the Swedish Polar Research Secretariat, Katarina Gårdfeldt, and parts of the government agency's advisory council recently visited the station. They also went to the Stordalen mire area near Torneträsk, about ten kilometres from Abisko. They were shown around and informed about ongoing continuous measurements, such as greenhouse gases, and current research projects.
Alisa Heuchel started as the new laboratory manager at the Abisko Scientific Research Station in May. In September, Alisa Heuchel will defend her thesis in forest genetics. Although her job at the station will involve different tasks, she will bring many experiences from her PhD studies, including laboratory work. Read an interview with Alisa here.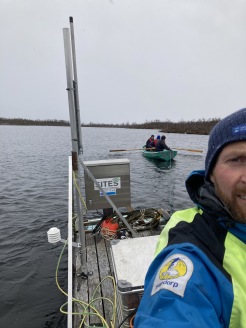 Within SITES Water, the raft on Lake Almbergasjön was towed out and installed. The lake is located approximately 14 kilometres east of Abisko, and the raft measures temperatures at 24 different depths in the water column, as well as oxygen levels and conductivity. A station on the shore complements the measurements that collect data on wind direction, wind speed, air pressure, temperature, relative humidity, net shortwave and longwave radiation, and the water level in the lake.

Abisko Scientific Research Station has resumed pollen monitoring and is now part of the nationwide pollen surveillance. This means pollen is collected on-site and sent to the Environmental Archaeology Lab at Umeå University for analysis.