Forest excursion at Asa
27/08/2021
« Back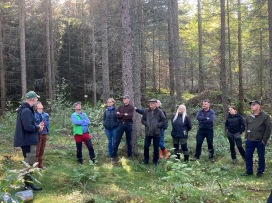 The covid pandemic has affected the work at the field stations within SITES in many ways. One of the most significant impacts has been the absence of visitors to SITES stations. Therefore, SITES is very happy to report that the first forest excursion in a very long time was held at Asa research station on Wednesday evening the 25th of August.
Almost 60 forest owners participated in the event as a part of the project "Climate adapted forestry". The theme of the excursion was focused on tree species selection in a changing climate as well as windthrow mechanisms and mitigation of risk with silvicultural tools. During the event participants were guided through Asa's forest stands, such as the 29-year-old stand of Hybrid larch (
Larix x marschlinsii
) as seen in the photo above.
The event was held in cooperation with Linneaus University and Vuxenskolan.