Long-term monitoring data from Lake Erken provides insight at SEFS conference
27/07/2021
« Back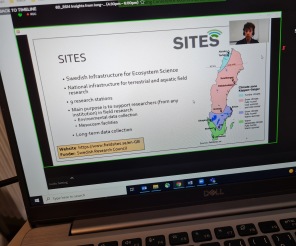 SITES was present at the 12th Symposium for European Freshwater Sciences (SEFS) virtual conference held this week. During the session, Insights from long-term datasets, Jorrit Mesman, a PhD student in the SITES network, presented research based on data collected at Lake Erken.

As part of the SITES Water program, long-term, high-frequency weather and lake temperature data is collected (Layer 3- Physical variables). This data can support modelling efforts to reconstruct past climatic effects, predict future changes, and investigate effects of extreme weather events on lakes. The SITES Water program further collects lake chemical, biological and greenhouse gas (GHG) data, that can be combined with physical lake modelling efforts.

The presentation given by Jorrit Mesman at SEFS showcased Lake Erken's long-term physical and biogeochemical data – the data was used to calibrate and validate a coupled physical-biogeochemical model investigating effects of storms on phytoplankton biomass in Lake Erken. The results showed that wind speed had non-monotonic effects on phytoplankton, where phytoplankton either increased or decreased after storms. Strong solar radiation and high hypolimnetic nutrient concentrations promoted phytoplankton growth after a storm, but if the mixed layer before the storm was deep, the storm had less impact.

Jorrit Mesman is a PhD student jointly at the University of Geneva and at Uppsala University enrolled in the PhD project titled, Assessing future effects on lake ecosystem resilience using data analysis and dynamic modelling, part of MANTEL: a Marie Skłodowska-Curie Action European Joint Doctorate Innovative Training Network. As part of his PhD project Jorrit has spent time at SITES Lake Erken with Don Pierson as a co-supervisor.