Spring field work at Tarfala Research Station is about to begin
08/04/2021
« Tillbaka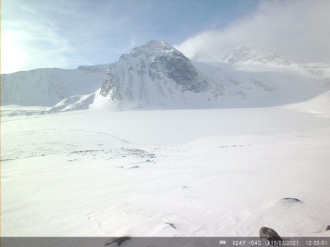 Constrained by the pandemic, a smaller than usual crew has arrived at Nikkaluokta for onward travel to Tarfala as soon as weather conditions allow it.
While waiting, the extra time is used to resupply with spares and food. Once at Tarfala, field work will be carried out at
Storglaciären
and
Rabots glaciär
(two of the World Glacier Monitoring Service's so-called reference glaciers),
Mårmaglaciären
, and
Riukojietna
.
The time lapse camera, overlooking
Lake Tarfala
, will also be visited, and high-resolution pictures taken since the fall will be collected. Low-resolution footage is sent occasionally (depending on weather) via MMS. The images collected contribute to a better understanding of lake ice phenology, which impacts lake mixing and other important processes in the lake.
Text: Nina Kirchner.