An unusual summer at Abisko Scientific Research Station
07/09/2020
« Tillbaka
Usually about 450 guest researchers who spend around 6,000 guest nights are hosted at Abisko Scientific Research Station during a field season each year. So far, the research station has only seen 115 guests. Quiet, empty, different… In normal years, it is quite noisy in the lunch room at ten o'clock, when there is a combined morning Fika for staff and guests. This year, only the station staff is allowed in the lunch room, practicing social distancing. Passage corridors at the station have been closed as well, so guests have to move outdoors. In addition, all common areas are closed so the guests do not see much of each other either. An exception are guest kitchen and the lab but their usage has been scheduled in a way that only one project at a time can be conducted.

Despite the fact that restrictions have made it more difficult for the guests of the research station, the general atmosphere has been positive and respectful. On the contrary, most people are very appreciative that the station is open and that guest researchers are allowed to come. Of course, for some foreign researchers, the pandemic has posed problems. Therefore, the station staff tries to help them with their field work as much as possible and reasonable, but it is a "mission impossible" to take over 450 people´s field campaigns.

However, nothing bad without something good in it: usually the only calmer period happens during the dark half of the year and that is when the station staff can take care of the station and the five field cabins. During COVID-19 times there is some extra time to do things that are only visible and can be done in the snow- and ice-free period. In addition, it is also rewarding to be able to give a little extra support to the external researchers who are still at the station. Then, there are still mixed feelings about the next sampling season: many new projects, which were planned for this year, were forced to be postponed. So, the 80 beds available to host researchers conducting their projects in Abisko will face a higher demand next season…….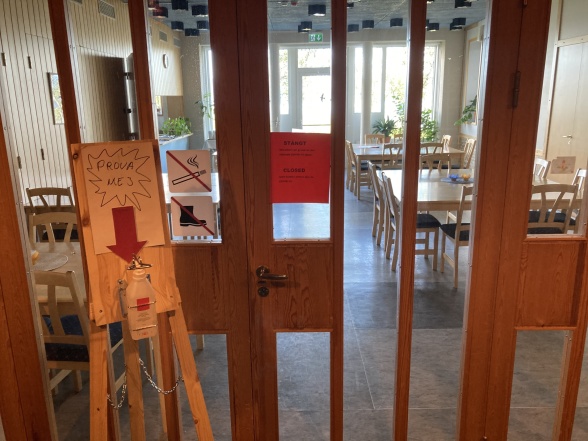 COVID-19 and its impact on Abisko Scientific Research Station - common areas are closed, social distancing is practiced including to avoid contact between station staff and guests; no less important: A good hand hygiene! Photographer: Magnus Augner.