Research Infrastructures are also Educational Infrastructures
22/09/2023
« Back
At the Gothenburg university research infrastructure, Skogaryd Research Catchment (SRC), not only is research conducted but also education. Every year different courses from environmental and Earth science programs, from University of Gothenburg and other universities, visit SRC for one or several days.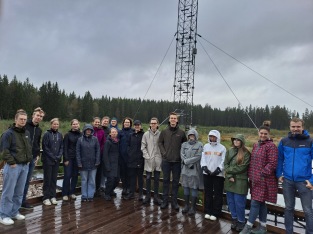 This week, the first-year students of the Environmental Science program visited SRC, as part of their base course in Environmental Sciences. They learned about the different ecosystems within the catchment, how greenhouse gases are measured by different methods and about the SITES Water program at the station. One topic that was discussed is how the lateral export of carbon contributes to the understanding the carbon sink-source strength of ecosystems and its importance for the landscape carbon balance.
An important part of science education is field work. Therefore, the students visited two of the research locations at SRC to see instrumentation and the large-scale experiments conducted. At Följemaden, the students were shown the rewetting of a peatland, that has been drained and under agricultural and forest management for 150 years. Among the topics discussed was, can we turn a greenhouse gas source back into a sink? At the central forest area, the students looked at the selectively harvested stand, which is comparing a clearcut and a stand with an extended rotation period. The students discussed, how does the carbon and greenhouse gas balance differ between the management options? The discussion also touched on more general questions regarding forests and forest management. As always, students were curious and had valuable question, stimulating a lively discussion.