SITES AquaNet summer experiment successfully finished
21/09/2022
« Back
The first AQUACOSM-plus transnational access (TA) experiment using the SITES AquaNet infrastructure finished in Mid-August. The experiment investigated functional and compositional consequences of run-off variability and was synchronized at Lake Erken and Bolmen during 6 weeks this summer. It brought together a team that involved 10 TA participants from Spain, Turkey, Ireland, Hungary and the Czech Republic, 5 participants from AQUACOSM-plus partners at IBG and Oldenburg University in Germany, and several local participants from Uppsala and Lund University.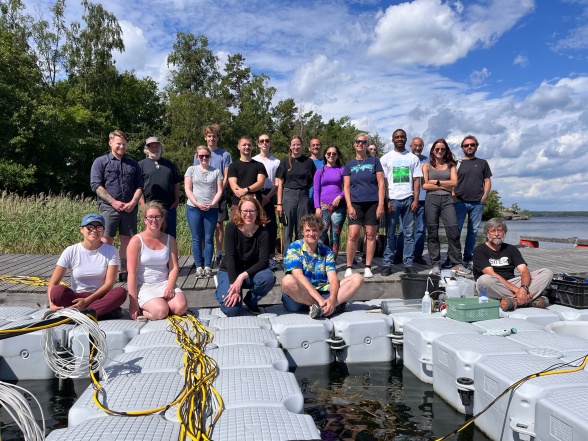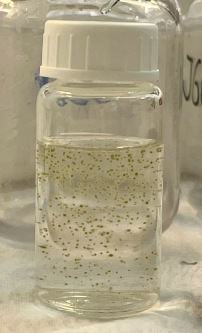 In the experiment, different run-off scenarios were investigated, which was done by manipulating the intensity and frequency of dissolved organic carbon (DOC), i.e. peat extract, and inorganic nutrient pulses that were added to the mesocosms while keeping the total added amount constant. There was a treatment with daily additions, an extreme treatment where all DOC and nutrients were added as one big pulse and an intermediate treatment where they were added in stochastic pulses of varying intensity. The project participants and SITES AquaNet will now continue with the sample and data analysis to answer how the different treatments affected among others, plankton composition and biomass/abundance, dissolved organic matter (DOM) composition, greenhouse gas emissions and nutrient stoichiometry. The experiment is unique in that it allows comparison of responses between two lakes that have very similar DOC concentrations but differ in DOC composition and dissolved nutrient concentrations.

Now that the summer 2022 experiment is wrapping up, we have started to make plans for the SITES AquaNet experiments in spring 2023 - more information and participation call will follow soon. Stay tuned!