Trapping Hylastes at Asa research station- a pilot project
17/11/2021
« Back
As part of the work to prevent and monitor forest damage, the government has invested money in a National Center for Forest Damage. The Center is a collaboration program, where SLU's Skogsskadecentrum (Forest Damage Center) has participated in several projects in collaboration with other actors.
SLU's Unit for Field-based Forest Research received a small sum to start up a number of pilot experiments, one of which is at SITES Asa Research Station, focused on developing a method for catching black bark beetles (Hylastes) in ground traps.

Hylastes can cause severe damage to newly planted seedlings by eating the bark of the roots, sometimes severe enough to kill the seedlings. The damage seems to have increased in recent years in southern Sweden. At Asa, experiments investigating the damage of Hylastes on seedlings have been conducted. However, since Hylastes mainly feed on roots in the ground, it is necessary to harvest the seedlings in order to investigate the damage, which is a very labor-intensive and costly effort. Therefore, the study was designed to catch the insects in ground traps. A standardized method monitoring the presence of Hylastes with ground traps increases knowledge about occurrence, species variation, etc.

Here, the experimental parks are an excellent resource for broadening the monitoring and contributing with long-time series in a wider geographic area.
However before investigating on such a larger scale, the methodology needs to be tested and staff trained.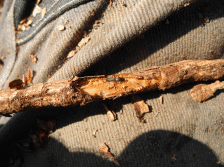 In the present pilot project, insects were collected from eight different clear-cuts near Asa experimental park. Ten ground traps per location were placed and emptied at regular intervals during June-August 2021. All insects were stored for later species identification.

Åke Lindelöw, field entomologist with long-term experience and well-known knowledge of Hylastes, helped to train the team to distinguish between the different species found in the traps. During the season, 3791 Hylastes were collected from the traps of which about 7% were Hylastes brunneus and 93 % Hylastes cunicularius.

"We have learned a lot from the study, both in terms of species determination and methodology. With small changes, we can make collection both easier and more efficient. We also think we are quite good at distinguishing between the two species of Hylastes and excluding other species from the catches. Now we only hope for a positive message for future financing which makes it possible to continue but also expand this monitoring of Hylastes." - Kristina Wallertz