Reducing climate and environmental impact, a fourth task?
21/10/2021
« Back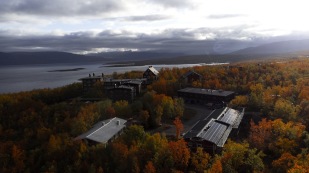 At SITES stations, work aimed at reducing the negative environmental impact is ongoing. One station that is trying to lead by example is Abisko Research Station. Station Manager Magnus Augner reports on the current environmental development in Abisko.

"We all have the three major tasks to carry out and/or support research and education, as well as doing "outreach". But as government bodies, maybe we should try to go the extra mile and be role models when it comes to reducing climate and environmental impact?

When the Abisko Scientific Research Station was built, electricity was cheap, and all heating was done through electrical radiators. Today, that is not the best technology, climate-wise or money-wise. For some years now, a limited part of the station's main building has been heated through geothermal heating. Right now, the National Property Board Sweden (Statens fastighetsverk) is planning for extending this to all of the main building during 2022. For the other building we are, house by house, replacing the direct electric heating with air source heat pumps.

The new heating regimes still need electricity, but much less so. And this summer we have put up solar panels, so that we at least during the summertime can produce part of our electricity needs. We have also purchased an electric car (Skoda Enyaq). This may seem like a bit of a gamble given the long cold winters in Abisko, but it will mainly be used by visiting researchers during the field season. And as most of the distances driven are quite short (10-20 km), an electric car should be ideal."