SITES forest research at Skogaryd and Svartberget featured in Swedish television
13/10/2021
« Back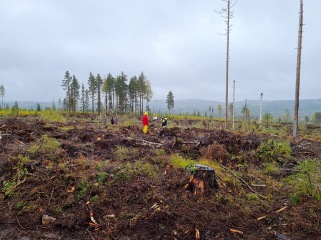 Research at SITES stations Skogaryd and Svartberget was recently highlighted in the science show Vetenskapens värld on Swedish television.
Several of SITES stations conduct research about forests and forestry, and related topics such as climate change. A recent television program on Swedish television included footage from
Skogaryd
and
Svartberget
, and researchers connected to SITES, including two of SITES previous Directors Anders Lindroth and Tomas Lundmark.
Watch the program online at SVT.se (In Swedish):
Vetenskapens värld: Slaget om skogen
. Svartberget is featured in the first episode and Skogaryd in episode 4.
Skogaryd was also included in another television program last week, where docent Åsa Kasimir explained about managed wetlands and their contribution to greenhouse gas emissions:
Uppdrag granskning: Klimatbomben
(in Swedish). Svartberget is also active in this field, with
ongoing research at Trollberget
investigating wetland restoration and buffer management on the carbon dynamics and water quality.