The 18th Krycklan symposium at Svartberget
27/09/2021
« Back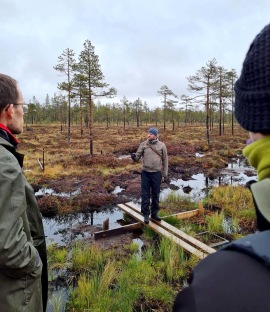 For a breath of fresh air and due to the continuing pandemic, this year's version of the annual Krycklan symposium was outdoors the full day. Fresh air it was announced beforehand and fresh air it sure was – it came in gusts and with tiny drops of water in it. Despite the weather conditions, the mood among the ca. 30 participants was overall very good.

The Krycklan symposium brings together people involved in the Krycklan Catchment Study and other interested researchers to hear more about the activities taking place in the catchment, and to gain insight into the most recent research.

Krycklan is an integral part of the Svartberget field research infrastructure. The 6780 ha Krycklan catchment study of today, an expansion of the original 50 ha at Nyänget in the 1980's, is one of the most instrumented and monitored watersheds in the world. The expanded scope of research includes mercury, weathering, aluminium, carbon cycling, water uptake by trees and connection between soils and surface waters. The overall aim is to create a process-based understanding of the regulation of stream water chemistry.
The 18th edition of the symposium featured presentations about Krycklan given on-site in the Krycklan catchment, with talks taking place in the "old" sites at Svartberget as well as in the new study site Trollberget.
Trollberget is a state-of-the-art research field site with six separate study areas:
fresh clear-cut forests with even fresher subsequent ditch-cleaning (n=2),
fresh clear-cut forest without any ditch-cleaning (n=2)
restored (rewetted) wetlands (n=2).
In addition, four neighbouring areas within Krycklan serve as either pristine references (n=2) or as sites historically drained in the 1930s and then left unmanaged (n=2). The monitoring of the catchments at Trollberget started in the autumn of 2018. The forest harvest and wetland restoration took place in 2020, and the ditch cleaning was conducted in September 2021.
Text: Johan Westin.