Discharge measurements at Tarfala
10/09/2021
« Back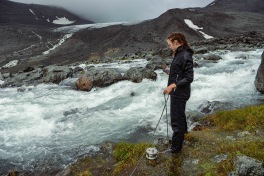 Tarfala Research Station personnel have been busy this summer measuring the Tarfalajokk discharge.
Wide-spread mass loss from the glaciers in the Tarfala valley this summer, together with some impressive rainfall events, has made Tarfalajokk almost double in size. Continuous measurements throughout the summer, using a fluorescein tracer dye, have been conducted and it is now soon time to go back to Stockholm to analyse the data.
Stream discharge data from Tarfala can be found in
SITES Data Portal
.
Field work in the Tarfala Valley. Click on the photos for larger versions and more info. Photos by Karuna Sah.