Abisko Scientific Research Station was built in 1912 after the research station in Katterjokk burned down. The following year, the meteorological measurements were started, and for several decades data has been collected on behalf of SMHI. The over one-hundred-year long series of measurements has qualified the measuring station as a Centennial Observing Station, an award given by the World Meteorological Organization WMO.
The purpose of WMO's award is to emphasize the importance of long series of measurements for forecasting and climate research.

– The location of the measuring site has been unchanged since 1913. In all weathers, day after day, observers went out to read the meteorological instruments. The very first handwritten observation books still exist today. It is both historically, culturally, and scientifically valuable, says Katarina Gårdfeldt, Director-General of the Swedish Polar Research Secretariat.

At Abisko Scientific Research Station, meteorological measurements of wind, air, solar time, snow depth, precipitation, ground temperature and radiation are carried out. The earliest information about the seasonal ice status for lake Torneträsk is from the late 19th century, but from 1913 there is a complete data series. In 1917, the leafing began to be recorded, and in 2003 the phenological measurements were expanded, i.e., studies of seasonal changes.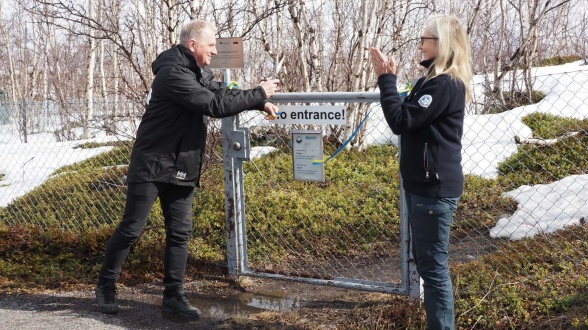 For a long time, the Swedish Polar Research Secretariat has performed meteorological measurements for the Swedish Meteorological and Hydrological Institute (SMHI).

– The observations are of great importance for SMHI's forecast work and for mapping climate change, and it is very important to have long series of measurements without interruption. The Arctic climate is particularly affected by climate change. In Abisko, for example, the temperature increase is just over 50 percent greater than the global average, says Håkan Wirtén, Director General of SMHI.
Continued measurements are important for the future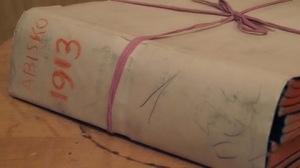 The thermometers and instruments used over 100 years ago were of a different standard then today, but of sufficient quality to provide valuable information about historical condi-tions. Today, the measurement methods have been modernized and most data are collected automatically through the weather station in Abisko. The manual observations still include the icing and ice discharge on Torneträsk as well as controls of the water levels in Abiskojokken and Torneträsk.

– Abisko Scientific Research Station is located in the zone with patchy permafrost, i.e., constantly frozen ground and an annual average temperature close to zero degrees. This allows us to study what happens to northern areas in times of climate change. The meteorological measurements at Abisko Science Station are part of the global climate puzzle, so it is important to continue the observations for another 100 years, Katarina Gårdfeldt concludes.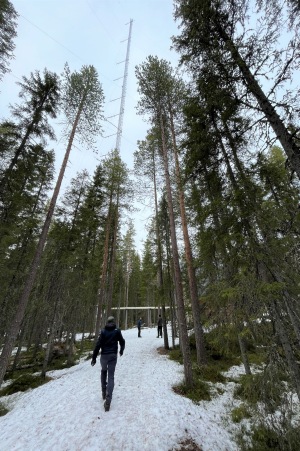 ACTRIS (Aerosol, Clouds, Trace gases Research Infrastructure) is a pan-European research infrastructure that provides a network of stations for observations of short-lived climate forcers (SLCF). The SLCFs have a short residence time in the atmosphere and include airborne particles, aerosols, and reactive trace gases. The Swedish branch of the research infrastructure is run by ACTRIS Sweden with six organizations (Lund University (Coordinating), Stockholm University, Gothenburg University, SLU, SMHI, and Uppsala University) taking part in a 5-year implementation phase starting in January 2022. ACTRIS Sweden has chosen to co-locate its measuring stations with the ICOS (The Integrated Carbon Observation System) infrastructure. ACTRIS Sweden is currently considering various options for a measuring station near the ICOS mast at Svartberget.
The ACTRIS measuring stations, of which some are already up and running, will extend along both a latitudinal and air pollution gradient stretching from Hyltemossa in Skåne at the southern end of the gradient to Zeppelin on Svalbard (Norway) at the northernmost extreme. Between these extremes are the stations in Östergarnsholm on Gotland, Norunda in Uppland, and soon Svartberget in Västerbotten.
Short-lived climate forcers are important to study for several reasons. They have an impact on human health directly, increasing the risk of heart disease, lung cancer, and asthma in people living in areas with high levels of air pollution. In Sweden alone, air pollution causes an estimated 7,000 premature deaths per year. Air pollution also has an impact on global temperatures as aerosols have a direct impact on the amount of sunlight reaching the ground and have an indirect impact on cloud formation and duration. SLCFs, like sulphate particles, typically have a cooling effect.

The complexity of these interactions makes it difficult to evaluate the effects of various short-lived climate-affecting air pollutants on the climate, human health, and ecosystems. It is, therefore, necessary to observe the composition, concentrations, and chemical and physical properties of air pollutants in such a way that useful models can be developed, tested, and verified. As of 2016, ACTRIS was a strategically important research infrastructure for Europe and was given so-called ESFRI status. In 2018, ACTRIS was included in the Swedish Research Council's compilation of nationally important research infrastructures.

ACTRIS will provide benefits to:
Scientists by providing quality-assured and open-access ACTRIS data, and offering access to our stations,
Policymakers by providing novel tools for validating the impact of regulation strategies and emission abatement policies through direct evaluation of atmospheric trends and by the provision of data for predicting climate scenarios.
Civil Society through improved weather, climate, and air quality predictions.
Natural biological surfactants are ubiquitous at the air-water interface, or the surface microlayer (SML), the uppermost ~1000 µm of surface water. Consequently, surfactants cover ~71% of Earth's surface and are a principal control of all mass transfer between air and water phases. The accumulation of surfactants in the SML has been found to reduce the air-sea exchange rate of CO2 at the ocean basin scale, but this conclusion cannot be generalised to freshwater systems because relevant studies are absent and given the major contribution of the freshwater system to the global carbon cycle, this is a major omission. This multidisciplinary collaborative study (Newcastle University, UK and Uppsala University, Sweden) aims to address this deficiency by coupling total surfactant measurements in the SML and subsurface water (SSW; ~20 cm depth) with direct gas transfer velocity estimates for CO2 by eddy covariance (EC) at the freshwater Lake Erken.
To investigate surfactant variability at Lake Erken, seasonal field campaigns have been carried out in summer (June 2021), autumn (October 2021) and spring (May 2022); lake ice-cover prevented sampling during the winter. The SML and SSW have been sampled during seasonal lake-wide surveys, and during approximately daily transects within the footprint of the EC tower (located on Malma Island) throughout each campaign. The resulting data set will enable the first-ever assessment of gas exchange across the surface of a freshwater body, as impacted by varying amounts of total surfactant and indices of the organic composition of the total surfactant pool.