On a global scale, forests currently act as a sink for atmospheric CO2. Forest management plays a large role in determining the CO2 uptake and long-term carbon storage in forests. Managed forests usually have lower ecosystem carbon stocks compared to pristine or old-growth forests, hence there is great potential to increase active terrestrial carbon sequestration if forests are managed appropriately. There is an ongoing debate over which forest management system provides the greatest long-term climate benefits. Reliable, long-term scientific data on carbon stocks, uptake, and sequestration, as well as data on emissions of other greenhouse gases, are needed to resolve the question of which management system is most beneficial.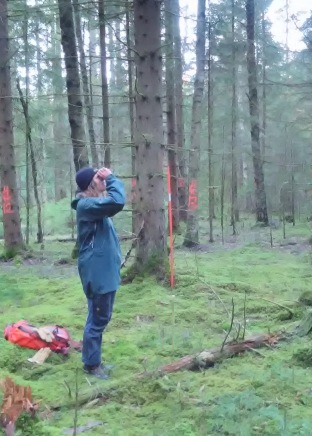 At the SITES research station Skogaryd Research Catchment (SRC), a new long-term experiment is getting underway. A 60-year-old Norway spruce (Picea abies) forest has been the subject of extensive research over the past decade, including measurements of greenhouse gas exchange using eddy covariance and chamber techniques, lateral transport of dissolved organic matter (by SITES Water), in addition to studies on sap flow and tree rings. The forest is mature and ready for harvest, which opens up the opportunity to study different approaches to forest management with the aim of evaluating the climate benefits of different management practices. Three different forest management systems will be established during harvest 2022/23, (i) continuous cover forestry with selection harvest based on target diameter cutting, (ii) clearcutting with subsequent replanting of saplings (rotation forestry), and (iii) extended rotation period, where the current 60-year-old forest will be allowed to continue growing undisturbed.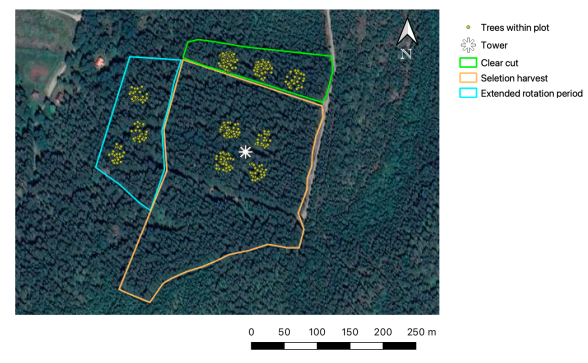 During summer and winter 2021/22 the diameter and exact positions of 344 trees in 10 plots with a 15 m radius were measured (see Map). In addition, the height of a select number of spruce trees has been measured. This allows for the determination of the total aboveground biomass, and hence carbon stock, of the trees in the forest stand. This coming spring, a student thesis project will investigate the soil carbon stocks by systematically taking soil samples of different horizons and measuring the soil carbon content as well as bulk density. Those measurements combined will provide a baseline estimate of the total ecosystem carbon stock.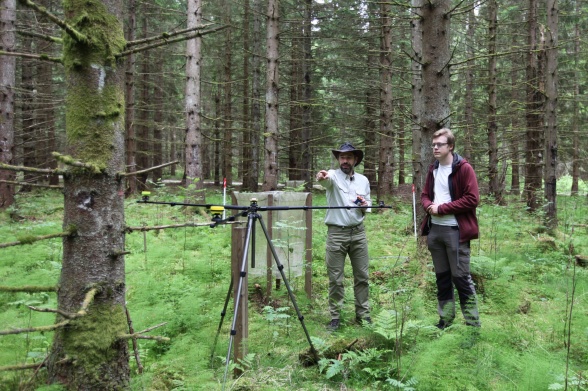 Measurements of the ecosystem carbon stock will be repeated in a couple of years to estimate any changes due to forest management, providing information on the climate benefits of different management systems. The project will use the ongoing eddy covariance flux studies, part of the SRC base program, and dissolved organic carbon (DOC) data from the SRC SITES Water program. The ecosystem carbon fluxes will be followed in detail by using eddy covariance measurements of the net ecosystem exchange of CO2 (selection harvest plot), estimating gross primary production via sap flow measurements, quantifying DOC in the groundwater, and by measuring soil respiration and nitrous oxide emissions using automatic chambers. The ultimate goal of the project is to provide quantitative knowledge on the climate benefits of different forest management systems for spruce forests in southwestern Sweden.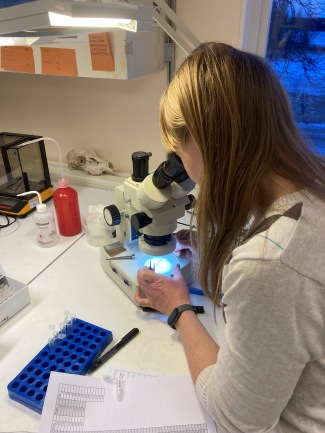 In midwinter, when fewer field surveys are running, SITES´ data collection continues indoors. One project is to go through tick (Ixodes) material from last summer and the physical samples from marked animals.

After collection in the field, samples are stored in Cryo freezers (-80°C), until they can be analyzed. Tick occurrence and frequency in different habitats are estimated using a specific survey method ("flagging"), but ticks are also collected from wild animals that are handled, e.g. voles (Microtus spp.) and roe deer (Capreolus capreolus).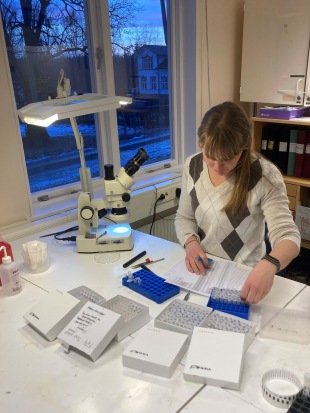 The ticks are later sent to project partners (e.g. National Veterinary Institute) for analyses of potential pathogens since the risk of zoonoses related to climate change has received more attention in recent years.

Tissue- and blood samples from marked animals are also checked and digitalized over the winter. For roe deer, these data are used to construct a scheme of relatedness (pedigree) among individuals in the local population, with samples from >500 animals collected in recent decades.
The SITES Secretariat wishes our community, friends and associates a good start in the New Year. We hope that despite the ongoing pandemic a way back to a normal life with regular activities like in-person meetings, workshops and travel will be possible this year. There are many exciting things to look forward to in 2022, not least the transition into a new funding phase.
We wish you endurance for the probably still tough weeks ahead and stay healthy!