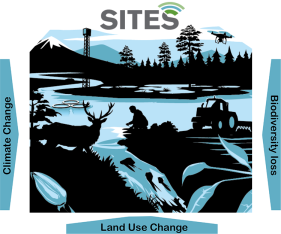 The Swedish Infrastructure for Ecosystem Science (SITES) has been awarded continued funding for the grant period 2023-2027, under the Swedish Research Council's (VR) call for research infrastructures of national interest.
SITES was launched in 2013 and now approaches the end of the second VR funding period. With the new funding, SITES can look forward to continuing operations during a third funding period where SITES will continue to promote high-quality research across Sweden linked to the research stations.
In the coming funding period, SITES will deepen the collaboration with other relevant research infrastructures and networks across Sweden, e.g.
ICOS
(Integrated Carbon Observation System) and
ACTRIS
(The Aerosol, Clouds and Trace Gases Research Infrastructure), and also engage internationally within the
eLTER
(European Long-Term Ecosystem Research) network.
"The continued funding is a recognition of the high quality and scientific impact of the support provided by our infrastructure", says SITES Director Stefan Bertilsson, and adds that the new funding will both secure long-term monitoring programs within the station network and enable the infrastructure to develop in order to meet the future needs of researchers and other stakeholders.
The current funding period started in 2018 and runs until the end of 2022. The funding details for the next period (2023-2027) and the terms of reference will be finalized later this year in dialog with VR.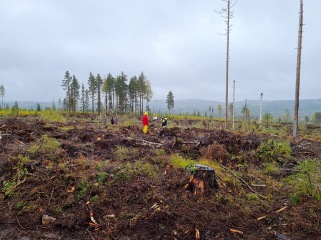 Research at SITES stations Skogaryd and Svartberget was recently highlighted in the science show Vetenskapens värld on Swedish television.
Several of SITES stations conduct research about forests and forestry, and related topics such as climate change. A recent television program on Swedish television included footage from
Skogaryd
and
Svartberget
, and researchers connected to SITES, including two of SITES previous Directors Anders Lindroth and Tomas Lundmark.
Watch the program online at SVT.se (In Swedish):
Vetenskapens värld: Slaget om skogen
. Svartberget is featured in the first episode and Skogaryd in episode 4.
Skogaryd was also included in another television program last week, where docent Åsa Kasimir explained about managed wetlands and their contribution to greenhouse gas emissions:
Uppdrag granskning: Klimatbomben
(in Swedish). Svartberget is also active in this field, with
ongoing research at Trollberget
investigating wetland restoration and buffer management on the carbon dynamics and water quality.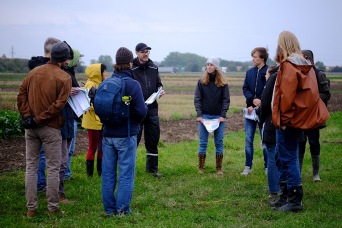 Finally! Students are back at SITES Lönnstorp. During September several different student activities took place.
The Agroecology and the Horticultural students took a field walk around the research station during two different occasions. The field walks were mainly focused on the SAFE (
SITES Agroecological Field Experiment
) infrastructure but the students were also shown and told about other experiments that are ongoing at the station (e.g.
Strip-till establishment
,
Flower strips 2.0
, and
Tree seedling establishment
).
Students attending the course Sustainable soil management in agroecosystems also had activities at SITES Lönnstorp. They, among other things, used different kinds of equipment (e.g. TDRs, lysimeters and penetrometers) to measure and assess different types of soil characteristics.
Lönnstorp Research Station
also hosted students from Lund University, who took a field walk as well as set up and performed eddy covariance measurements at the station. Furthermore, Daniel Brainard, a professor in sustainable agriculture and ecological weed management at Michigan State University (USA), also paid the station a visit in September.
– We hope that more researchers, students, companies, organizations, and the public will visit us during the coming months, says Johannes Albertsson, SITES Station manager at Lönnstorp.