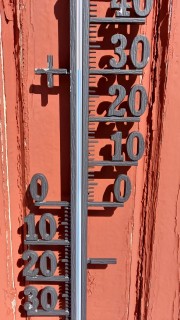 The summer 2021 is facing a heat wave across the northern hemisphere with temperatures rising to more than 10°C above the long-term average in some regions of Scandinavia.

International media has been covering this topic with focus on the extreme high pressure system over parts of Canada, but Finland, Norway and Sweden are also of special interest for meteorologist as The Guardian reported last week.

SITES maintains long-term meteorological stations that allow for temperature trends to be monitored across several regions in Sweden. In northern Sweden daily air temperature data from Tarfala Research Station and Abisko Scientific Research Station show that in early June of this year temperatures were higher than the average June temperature of previous years (see graphs below). This data is openly available on the SITES Data Portal for use by the research community and those interested in analysing long-term temperature trends.

Check out the most recent meteorological data updates from SITES stations at Tarfala Research Station and Abisko Scientific Research Station.

Reproduction is the focus of much of the wildlife monitoring in spring and early summer at Grimsö Wildlife Research Station. Two of the species monitored are starlings and red fox.
Starling (
Sturnus vulgaris
) reproduction has been monitored annually at
Grimsö
since 1981. The survey is part of a national system which was initially started to detect potential effects of pesticides used in agriculture at the time. At Grimsö, 150 nest boxes, distributed in six separate areas, are checked several times during the reproductive season and the dates of egg laying, fledging etc. are noted. A slight but significant decrease in starling numbers, but not nesting success, has been observed over time. The factors behind the decrease is unclear, but it is at least partly thought to be related to a reduced use of grazing cattle.
Red fox (
Vulpes vulpes
) reproduction has been monitored in Grimsö wildlife research area since 1973. In this survey, ca. 190 dens are checked annually for signs of red fox and badger (
Meles meles
) reproduction. The local fox abundance, which may vary a lot between years, is an important factor and a classic topic in wildlife ecology since fox densities may strongly influence population fluctuations of many small game species like hares and grouse. The fox reproduction in turn, is strongly related to the seasonal abundance of voles which are an important food resource for foxes.