As we near the end of the year, we wanted to thank you for your continued commitment and perseverance through 2021! There are many things to be thankful for this year including reconnecting in person with the SITES community and continued funding for years to come. We look forward to keeping the monument and continued journey with you in 2022! God Jul! Enjoy the holidays and best wishes for 2022 from the SITES Secretariat!
At Svartberget Research Station, an ongoing soil project, investigating soil organic carbon and nitrogen, uses plastic balls added to the soil pit to estimate pit volume.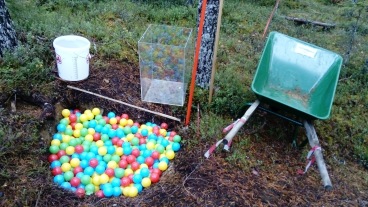 Soil is a major component of the terrestrial carbon cycle. Thus, monitoring temporal change in Soil Organic Carbon (SOC) and Nitrogen (SON) stock isrequired to close the ecosystem mass balance of these elements and to assess the role of terrestrial ecosystems in the global carbon cycle.

In an on-going project, with the aim to monitor the SOC and SON stocks within the target area of the Eddy Covariance (EC) flux tower at Svartberget soil samples have been collected and prepared. The project involves organizing student field assistants working on the project, collecting soil samples in the field, photographing the soil pit, setting up a soil drying lab, liaising with the central laboratory and following the protocol to process the soil samples (i.e., labelling, drying, sample weighing, separation of soil stones and vegetation).

The SOC and SON stocks for the first meter (0 to 100 cm) of the soil profile is determined from measurements of soil organic carbon and nitrogen content as well as bulk density of the soil. The SOC and SON content is analysed by a central laboratory, while the station team measures the soil density.

Johan Westin, Experiment Group Leader at the Unit for Field-based Forest Research, offers some practical advice about the technique used for pit volume,

"Have you ever taken on the task to estimate the bulk density of all of what you have dug up from a 1 m deep pit in a spruce forest in northern Scandinavia? In theory, it is easy. Just dig a rectangular shaped pit on the flat soil down to a one meter. Measure width and length. Weigh everything that you have dug up. Move on to next pit.

In reality though, there are stones, rocks, roots, sand, clay and so on. The pit seldom has a regular shape so the task to measure the volume is suddenly not so easy. This may be the point where all the hours you have spent with your children in a "bollhav" (ball pit) somewhere suddenly pays off. Buy balls and bring the "bollhav" to the field (leave the kids at home), fill the pit with the balls and count the number of balls. Calculate the pit volume. Move on to next pit. It's a colourful approach."
The onset of ice at Lake Erken occurred on Dec 6th this year, which is a record in recent years, but put in the historical context not so unusual.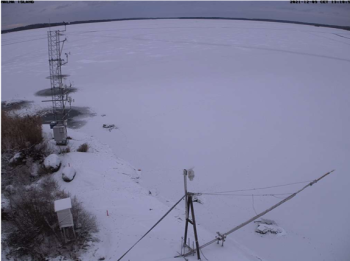 Visual observations of the onset and loss of Lake Erken's ice cover began in 1940 and continues today, now with the assistance of the same camera used for SITES vegetation phenology monitoring (link to live webcams on the lake). The effects of ongoing climate change are leading to a clear trend in decreasing ice cover as shown for Lake Erken in graph a below. In fact, the last three years have had some of the shortest ice durations on record, with the winter of 2019-2020 having the shortest duration on record of only five days.

With this in mind, it is exciting that this year there appears to be an unusually early onset of ice cover, taking place already on Dec 6, 2021. When put into the historical context (as seen in graph b below) the ice cover did in fact start early, but this year's early onset of ice is not so unusual. It is the 17th earliest ice onset (tied with 1979) of the data recorded at Erken. But how to interpret this against a clear trend of a later onset? This illustrates the concept that "Stationarity Is Dead"1 a problem the climate change researchers and water managers must now consider in their day to day work.

1Milly, P. C. D. et al. Stationarity Is Dead: Whither Water Management? Science 319, 573-574, doi:10.1126/science.1151915 (2008).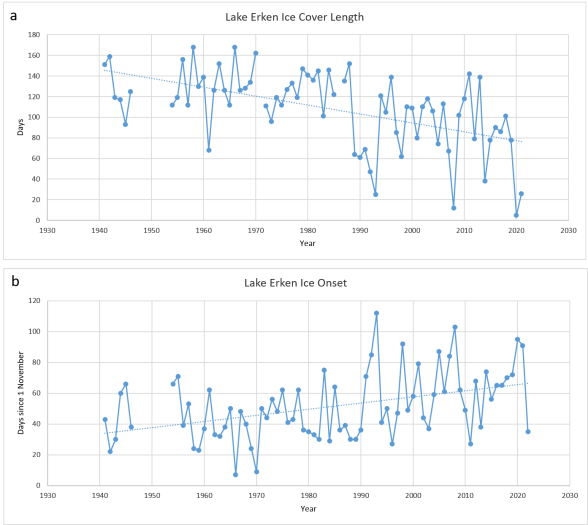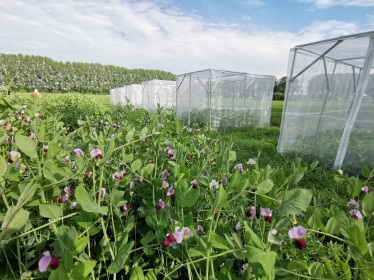 A project focusing on intercropping of faba beans and peas has been initiated at SITES Lönnstorp Research Station. This year was the first of the three-year project period.

The aim of the project is to study and optimize the intercropping of faba beans and peas. The trials are conducted by Dylan Wallman as parts of his licentiate education at the department of Biosystems and Technology at SLU Alnarp. The goal is to investigate whether intercropping of peas and faba beans can provide higher and more stable yields in organic production compared to individual cropping of each. In the project, both seed and biomass yield are measured, and other agronomical aspects relevant for organic farming and intercropping are also assessed.

This year was agriculturally a relatively good year, although there could have been more precipitation, which would have especially benefited the faba beans. The results from this first year will provide clues on how to further develop the trial design for the two upcoming years. Intercropping of faba beans and peas has historically been performed in Sweden, but is nowadays very rare, both in production and research. By observing the two crops growing together a lot can be learned; on a weekly basis there are surprises, and what you think is the best combination of varieties in the early summer can very much be the worst by the end of the season.

This project studies both modern and old varieties of faba beans and peas. Historically, since peas often were intercropped with either cereals or faba beans, the older varieties are more adapted to grow with a companion crop than by themselves. Many of the older varieties also have culinary properties that can contribute to increasing the demand for locally produced legumes. At the same time, larger local harvests of protein-rich plants allow for a reduction in imports of soya beans for animal feed. Therefore, the project is also a step towards shortening the distance between the production and consumption of food and facilitating the transition to more plant-based protein in human diets.

See more about the project in the research video (in Swedish with English subtitles): Intercropping of fava bean and pea in organic farming systems

The trials are conducted at the organic experimental fields at SITES Lönnstorp. Supervisors are Georg Carlsson (SLU), Åsa Grimberg (SLU), and Matti Wiking Leino (SU). The project is funded by Ekhagastiftelsen.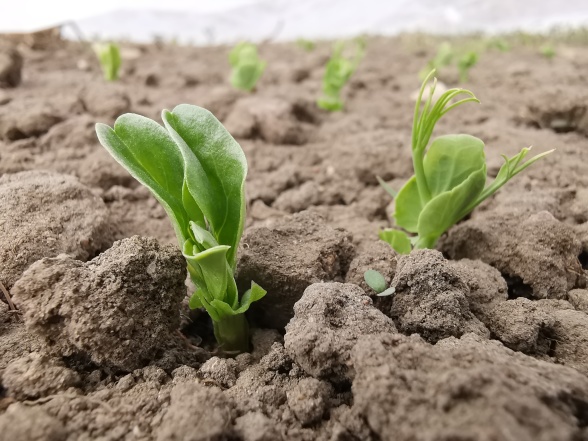 In late autumn, work at SITES station Grimsö mainly comprises of digitalization and compilation of data from the earlier peak season, and lab work to specify ticks sampled from voles etc. However, outdoor activities still run in autumn, one of which is the hazel grouse survey.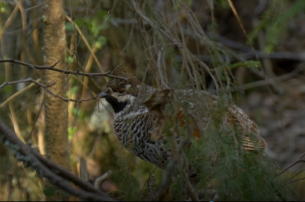 The hazel grouse (Bonasa bonasia) survey at SITES Grimsö started in 1987 as part of a conventional research project. This quite anonymous species is strongly connected to specific habitat features and the data obtained during the initial project showed to be interesting, and unique for Sweden. Thus, the annual counts continued as a monitoring program after the initial project ended. The hazel grouse is included in some of the national bird monitoring programs, but the large-scale and long-term survey designed only for hazel grouse at Grimsö, is rare also at the international level.

The survey is conducted as territorial mapping in part of the research area, and the method includes the use of a whistle imitating the territorial song of a male hazel grouse. A systematic and dense network of whistle points are applied throughout the study area, so all territory holders, either just the male or a male and female together, are found. In the last Decades, hazel grouse have shown strong declines in southern Sweden, which is also mirrored in our survey. This highlights the importance of long-term and detailed data which improves the understanding of causes and effects behind population trends.
As part of the work to prevent and monitor forest damage, the government has invested money in a National Center for Forest Damage. The Center is a collaboration program, where SLU's Skogsskadecentrum (Forest Damage Center) has participated in several projects in collaboration with other actors.
SLU's Unit for Field-based Forest Research received a small sum to start up a number of pilot experiments, one of which is at SITES Asa Research Station, focused on developing a method for catching black bark beetles (Hylastes) in ground traps.

Hylastes can cause severe damage to newly planted seedlings by eating the bark of the roots, sometimes severe enough to kill the seedlings. The damage seems to have increased in recent years in southern Sweden. At Asa, experiments investigating the damage of Hylastes on seedlings have been conducted. However, since Hylastes mainly feed on roots in the ground, it is necessary to harvest the seedlings in order to investigate the damage, which is a very labor-intensive and costly effort. Therefore, the study was designed to catch the insects in ground traps. A standardized method monitoring the presence of Hylastes with ground traps increases knowledge about occurrence, species variation, etc.

Here, the experimental parks are an excellent resource for broadening the monitoring and contributing with long-time series in a wider geographic area.
However before investigating on such a larger scale, the methodology needs to be tested and staff trained.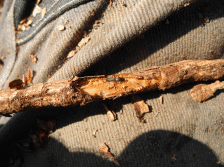 In the present pilot project, insects were collected from eight different clear-cuts near Asa experimental park. Ten ground traps per location were placed and emptied at regular intervals during June-August 2021. All insects were stored for later species identification.

Åke Lindelöw, field entomologist with long-term experience and well-known knowledge of Hylastes, helped to train the team to distinguish between the different species found in the traps. During the season, 3791 Hylastes were collected from the traps of which about 7% were Hylastes brunneus and 93 % Hylastes cunicularius.

"We have learned a lot from the study, both in terms of species determination and methodology. With small changes, we can make collection both easier and more efficient. We also think we are quite good at distinguishing between the two species of Hylastes and excluding other species from the catches. Now we only hope for a positive message for future financing which makes it possible to continue but also expand this monitoring of Hylastes." - Kristina Wallertz
Sydvatten at Lake Bolmen, has joined with VA SYD Källby Water Workshop and NSVA RecoLab, on a collaborative Vinnova funded test bed to develop online drinking water quality monitoring. The Testbed project was presented during the National Drinking Water conference, 26 of October, in Malmö.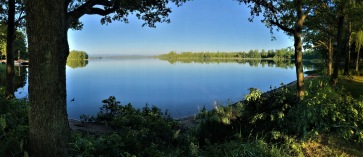 Sydvatten research station, situated at Lake Bolmen, in association with VA SYD Källby Water Workshop, in Lund, and NSVA RecoLab in Helsingborg, have initiated a Vinnova funded test bed. The collaboration aids in developing methods which will enable online quality monitoring and hence, contribute to safer drinking water management. This will provide operating personnel more time to react in the event of incidents, such as leakage or contamination, thus reducing the risk to the public.

Although the organizations involved are all linked within the water industry, they individually represent different phases of drinking water management through the consumption of this most precious resource. The Research Station Bolmen mainly focuses on the raw product, which in this case is the surface water of Lake Bolmen, one of the major drinking water sources for South Sweden. Källby Water Workshop focuses on both the quality and delivery of drinking water. RecoLab, an urban wastewater testbed with access to sorted wastewater streams, allows for testing on different types of wastewaters, as well as testing water at different steps during the treatment process.

The Testbed project was presented during the National Drinking Water conference, 26 of October, in Malmö. Guests were invited to make a digital visit to the test beds here. The presentation was hosted by Markus Fröjd, a research leader at Sweden Water Research and Esmeralda Frihammar, development engineer at VA SYD.

Together, these collaborating test beds, offer prospective developers a collective experience and expertise through the entire water cycle – all the way from raw water, through drinking water, to the recycled wastewater

More about the project can be found here.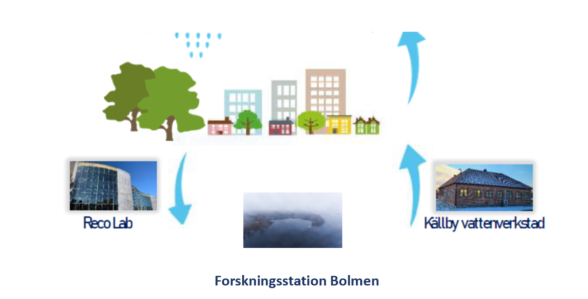 SITES AquaNet plans for a coordinated mesocosm experiment on the effect of run-off variability in five lakes next summer. A call for researchers and students to participate will open soon.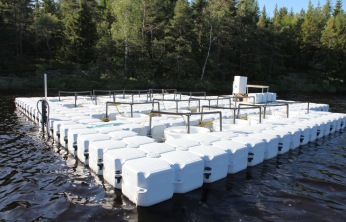 SITES AquaNet will soon launch a call within the EU project AQUACOSM-plus to invite research groups, individual researchers and students to apply to join a coordinated mesocosm experiment at all five SITES stations participating in the AquaNet Program. The experiment aims to involve many national and international researcher and students in the planning, implementation and analysis of the experiment.

The scientific focus of the experiment will be to investigate how differences in run-off variability during summer precipitation events impact the transport of resources, such as organic matter and nutrients, into lakes, and thus affect the composition and function of lake communities. This is important to study as nutrient pulse variability is expected to increase in the future as precipitation events will become more extreme, due to stronger and flashier rainfall, floods, and extended periods with droughts. To address such questions, spatially coordinated experiments that look at responses to standardized manipulations with standardized equipment and methods are crucial tools. SITES AquaNet is well suited in this regard since the program is designed to implement standardized experiments across lakes. Moreover, the mesocosms at each station allow for temporal high-frequency measurements of phytoplankton and cyanobacterial biomass and ecosystem metabolism, such as primary production and respiration.

You are welcome to apply to join us in this exciting mission of running a large, coordinated experiment! AQUACOSM-plus provides Transnational Access (TA) free of charge to approved users to at least one of the partner facilities, including costs for travel, housing and meal expenses. Applications will soon be accepted for the 2022 SITES AquaNet-AQUACOSM-plus project.

More information about the experimental set-up and the application.

A new dataset called '3D RGB Drape' is defined and tested for UAV (drone) images available for SITES stations. Shangharsha Thapa from SITES Spectral describes this new product.

Images from Unmanned Aerial Vehicle (UAV) present a way to generate accurate and high-resolution topographic products such as orthomosaics (combination of aerial photograph or satellite imagery of a large area) and digital surface models (DSMs) in a fast and economical way. However, the orthomosaics and DSMs that are obtained after processing the UAV images may be quite heavy in terms of file size, which makes them challenging to disseminate to users. A 2D orthomosaic and elevation map can be a very good way of presenting the land use and topography within the flight area (Figure 1). However, to prepare and disseminate such maps, one must have prior basic knowledge of GIS and also access to available GIS applications (such as ArcGIS and QGIS).

So, to make the data visualization and dissemination simple, realistic, easy to handle, and GIS platform-independent, a new dataset called '3D RGB Drape' has been defined and tested for UAV images available for SITES stations. In this new dataset, the RGB orthomosaics are draped on top of the 3D surfaces (digital terrain model, DTM) to give a more realistic appearance.
There is a wide range of techniques or applications that offer 3D solutions. Qgis2threejs, Blender GIS, Mayavi, Rayshader, and ArcGIS are some examples. The first four packages are open-source platforms, while the last one is commercial. All these platforms were tested to generate 3D RGB drapes, and it was found that the
R-package Rayshader
offered the best results, both in terms of quality and high-resolution data handling.
Rayshader is an open-source package for producing 2D and 3D hill shaded maps of elevation matrices using a combination of raytracing, spherical texture mapping, overlays, and ambient occlusion (adopted from
Dr. Tyler Morgan's website
). The process of rendering a 3D scene begins with plotting an elevation matrix. A hillshade is generated and plotted from the elevation matrix with a Z-scale factor ranging from 0.05 to 0.2 depending on the elevation variation within the area. The shadow layers are successively added on the plotted hillshade, and the result is printed on the screen with OpenGL (Figure 2).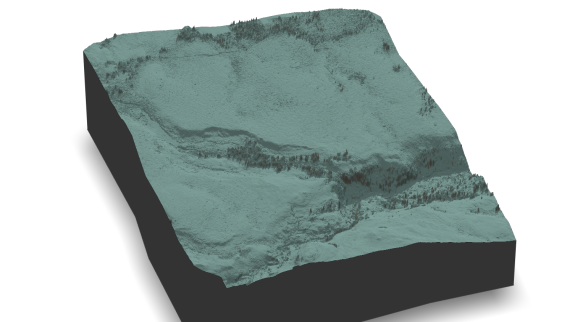 Now, that the 3D hill shaded surface is ready, it is time for overlaying RGB orthomosaics on top of it. Before draping the orthomosaic, one must ensure that the overlay image dimensions match the elevation data dimensions. Below is an example of one of the static rendered snapshots of orthomosaics from the flight area at Abisko, but locally one can interact with the 3D plot at this stage.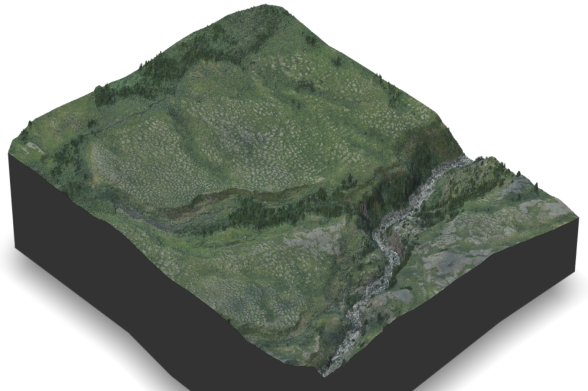 One of the most eye-catching features of Rayshader is its ability to export the rendered 3D surface into a different file format such as .mp4, .obj, and .gif. An .obj file is a standard 3D image format that can be viewed by various 3D image viewers. There are several functions available within the Rayshader package for the creation of any of these file formats. The function allows capturing the user-defined number of snapshots of the rendered 3D from different angles. All these snapshots are looped to stitch them into an .mp4, .obj, or .gif file (Figure 4).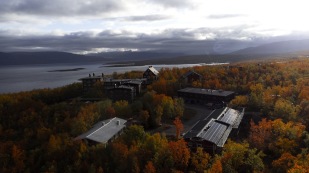 At SITES stations, work aimed at reducing the negative environmental impact is ongoing. One station that is trying to lead by example is Abisko Research Station. Station Manager Magnus Augner reports on the current environmental development in Abisko.

"We all have the three major tasks to carry out and/or support research and education, as well as doing "outreach". But as government bodies, maybe we should try to go the extra mile and be role models when it comes to reducing climate and environmental impact?

When the Abisko Scientific Research Station was built, electricity was cheap, and all heating was done through electrical radiators. Today, that is not the best technology, climate-wise or money-wise. For some years now, a limited part of the station's main building has been heated through geothermal heating. Right now, the National Property Board Sweden (Statens fastighetsverk) is planning for extending this to all of the main building during 2022. For the other building we are, house by house, replacing the direct electric heating with air source heat pumps.

The new heating regimes still need electricity, but much less so. And this summer we have put up solar panels, so that we at least during the summertime can produce part of our electricity needs. We have also purchased an electric car (Skoda Enyaq). This may seem like a bit of a gamble given the long cold winters in Abisko, but it will mainly be used by visiting researchers during the field season. And as most of the distances driven are quite short (10-20 km), an electric car should be ideal."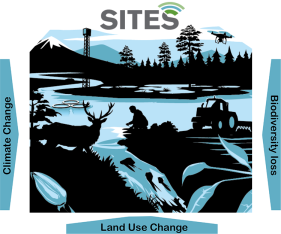 The Swedish Infrastructure for Ecosystem Science (SITES) has been awarded continued funding for the grant period 2023-2027, under the Swedish Research Council's (VR) call for research infrastructures of national interest.
SITES was launched in 2013 and now approaches the end of the second VR funding period. With the new funding, SITES can look forward to continuing operations during a third funding period where SITES will continue to promote high-quality research across Sweden linked to the research stations.
In the coming funding period, SITES will deepen the collaboration with other relevant research infrastructures and networks across Sweden, e.g.
ICOS
(Integrated Carbon Observation System) and
ACTRIS
(The Aerosol, Clouds and Trace Gases Research Infrastructure), and also engage internationally within the
eLTER
(European Long-Term Ecosystem Research) network.
"The continued funding is a recognition of the high quality and scientific impact of the support provided by our infrastructure", says SITES Director Stefan Bertilsson, and adds that the new funding will both secure long-term monitoring programs within the station network and enable the infrastructure to develop in order to meet the future needs of researchers and other stakeholders.
The current funding period started in 2018 and runs until the end of 2022. The funding details for the next period (2023-2027) and the terms of reference will be finalized later this year in dialog with VR.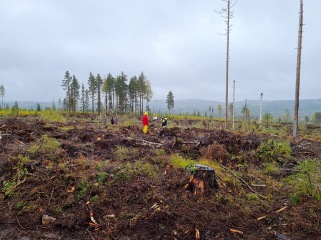 Research at SITES stations Skogaryd and Svartberget was recently highlighted in the science show Vetenskapens värld on Swedish television.
Several of SITES stations conduct research about forests and forestry, and related topics such as climate change. A recent television program on Swedish television included footage from
Skogaryd
and
Svartberget
, and researchers connected to SITES, including two of SITES previous Directors Anders Lindroth and Tomas Lundmark.
Watch the program online at SVT.se (In Swedish):
Vetenskapens värld: Slaget om skogen
. Svartberget is featured in the first episode and Skogaryd in episode 4.
Skogaryd was also included in another television program last week, where docent Åsa Kasimir explained about managed wetlands and their contribution to greenhouse gas emissions:
Uppdrag granskning: Klimatbomben
(in Swedish). Svartberget is also active in this field, with
ongoing research at Trollberget
investigating wetland restoration and buffer management on the carbon dynamics and water quality.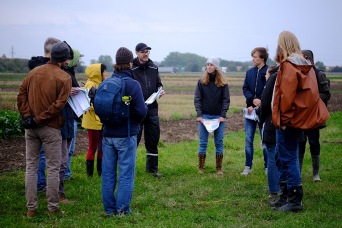 Finally! Students are back at SITES Lönnstorp. During September several different student activities took place.
The Agroecology and the Horticultural students took a field walk around the research station during two different occasions. The field walks were mainly focused on the SAFE (
SITES Agroecological Field Experiment
) infrastructure but the students were also shown and told about other experiments that are ongoing at the station (e.g.
Strip-till establishment
,
Flower strips 2.0
, and
Tree seedling establishment
).
Students attending the course Sustainable soil management in agroecosystems also had activities at SITES Lönnstorp. They, among other things, used different kinds of equipment (e.g. TDRs, lysimeters and penetrometers) to measure and assess different types of soil characteristics.
Lönnstorp Research Station
also hosted students from Lund University, who took a field walk as well as set up and performed eddy covariance measurements at the station. Furthermore, Daniel Brainard, a professor in sustainable agriculture and ecological weed management at Michigan State University (USA), also paid the station a visit in September.
– We hope that more researchers, students, companies, organizations, and the public will visit us during the coming months, says Johannes Albertsson, SITES Station manager at Lönnstorp.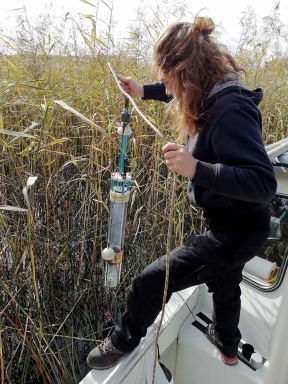 SITES is mapping lake sediments for the lakes included in the thematic programmes SITES Water and SITES AquaNet, to enable a better understanding of biogeochemical processes within the lakes. The latest lake investigated was Lake Erken.
In most lakes, a sub-bottom profiler, using acoustic signals of different wavelengths to produce images showing bottom surface, sediment layers and underlying bedrock, has been employed. In addition, sediment cores have been collected across the lake as well as at targeted areas near the greenhouse gas (GHG) chamber locations (
Layer 6 in SITES Water
).
Only a few lakes remain to be investigated, with the most recent sediment sampling taking place at Lake Erken. Sediments along the four transects with GHG chambers were successfully collected in mid-September. At each GHG transect two sediment cores were collected, representing a shallow and deep depth within the transect. Most sediment was sampled with a gravity corer, however at shallow depths within the reed belts innovative sampling techniques were required.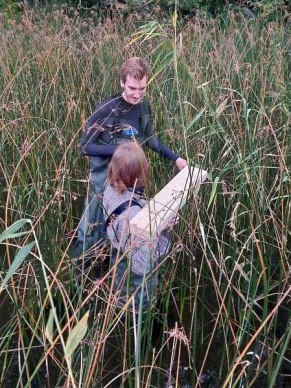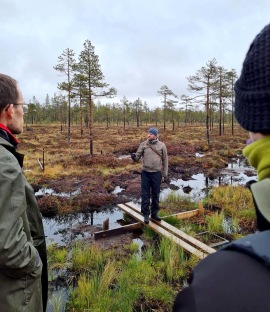 For a breath of fresh air and due to the continuing pandemic, this year's version of the annual Krycklan symposium was outdoors the full day. Fresh air it was announced beforehand and fresh air it sure was – it came in gusts and with tiny drops of water in it. Despite the weather conditions, the mood among the ca. 30 participants was overall very good.

The Krycklan symposium brings together people involved in the Krycklan Catchment Study and other interested researchers to hear more about the activities taking place in the catchment, and to gain insight into the most recent research.

Krycklan is an integral part of the Svartberget field research infrastructure. The 6780 ha Krycklan catchment study of today, an expansion of the original 50 ha at Nyänget in the 1980's, is one of the most instrumented and monitored watersheds in the world. The expanded scope of research includes mercury, weathering, aluminium, carbon cycling, water uptake by trees and connection between soils and surface waters. The overall aim is to create a process-based understanding of the regulation of stream water chemistry.
The 18th edition of the symposium featured presentations about Krycklan given on-site in the Krycklan catchment, with talks taking place in the "old" sites at Svartberget as well as in the new study site Trollberget.
Trollberget is a state-of-the-art research field site with six separate study areas:
fresh clear-cut forests with even fresher subsequent ditch-cleaning (n=2),
fresh clear-cut forest without any ditch-cleaning (n=2)
restored (rewetted) wetlands (n=2).
In addition, four neighbouring areas within Krycklan serve as either pristine references (n=2) or as sites historically drained in the 1930s and then left unmanaged (n=2). The monitoring of the catchments at Trollberget started in the autumn of 2018. The forest harvest and wetland restoration took place in 2020, and the ditch cleaning was conducted in September 2021.
Text: Johan Westin.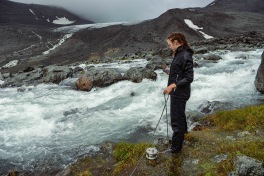 Tarfala Research Station personnel have been busy this summer measuring the Tarfalajokk discharge.
Wide-spread mass loss from the glaciers in the Tarfala valley this summer, together with some impressive rainfall events, has made Tarfalajokk almost double in size. Continuous measurements throughout the summer, using a fluorescein tracer dye, have been conducted and it is now soon time to go back to Stockholm to analyse the data.
Stream discharge data from Tarfala can be found in
SITES Data Portal
.
Field work in the Tarfala Valley. Click on the photos for larger versions and more info. Photos by Karuna Sah.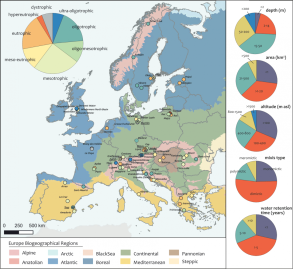 Have you ever wondered about the invisible bacteria, archaea, viruses and protozoa hiding in our lakes? Each drop of water contains millions of unicellular organisms that cannot be seen with the naked eye, and in order to map and describe the diversity and function of these organisms, we need to use new methods based on their genomic information.
In the project called "PELAGICS" (Pan-European Lake Sampling - Microbial Eco-genomics), an international group of researchers use new genetic methods to map freshwater microbial diversity on a European scale. Under the leadership of
Michaela Salcher
and
Rohit Ghai
, both from the Czech Republic, 70 large lakes, located in 16 European countries, will be sampled for both bacteria and protozoa. The samples will be used to isolate cultures of bacteria and protozoa, that will be analysed using cultivation methods, and, furthermore, sequencing of the total microorganism genome (metagenomics) will be done.
The most recent country visited by the PELAGICS sampling team was Sweden, where researchers collected bacterial samples from Lakes Mälaren, Erken, Vänern, Vättern and Torneträsk. By establishing a collaboration with the SITES Research Stations
Abisko
and
Erken
, as well as county administrative boards and the tourism industry, sampling efforts have been organized efficiently and safely and a broader collaboration formed.
The project will produce a large amount of sequencing data (20 Tb) in the coming months, and researchers hope that the data will help answer several challenging questions, such as, which organisms make up the freshwater microflora and their distribution in Europe. The researchers also hope to answer more general questions concerning species formation of microorganisms and local evolutionary adaptations.
For the Swedish part of PELAGICS, Professor
Stefan Bertilsson
(SITES Director/SLU), Dr.
Matthias Hoetzinger
(SLU) and Professor
Silke Langenheder
(Uppsala University) are participating.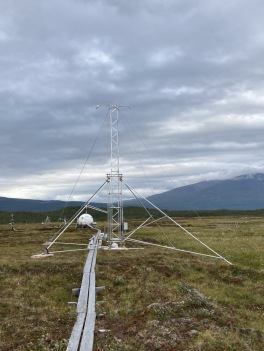 The Stordalen nature reserve is one of the major study areas of the Abisko Scientific Research Station (ANS). This summer there have been some new installations there, as Magnus Augner, Abisko Station Manager, tells.
"To the uninitiated, coming to the Stordalen mire to pick cloudberries or do some birdwatching, the area probably causes some raised eyebrows. Instead of a tranquil, wide mire landscape, it may seem more like a "Sculpture park" with quite strange installations.
The most recent additions to the installations are wooden structures that reduce precipitation, simulating drought conditions, and the new
SITES-Spectral
mast. The old Spectral mast fell over when corrosion made one of the guy wires break. The new construction has four aluminium legs for stability, with some extra guy wires attached to the top of the mast proper. The mast itself is easily lowered, swung around a fulcrum half-way up – so there is no need to climb it.
Right now, we are in the process of putting up signs, both for the area as such, and for each installation. To make this easier for the researchers, we provide them with poles with mounted wooden plates, and templates for the signs."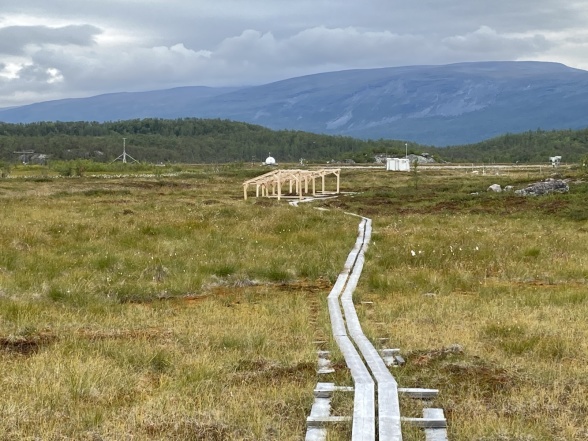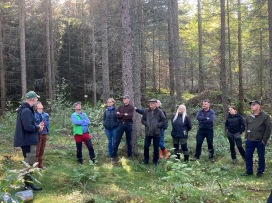 The covid pandemic has affected the work at the field stations within SITES in many ways. One of the most significant impacts has been the absence of visitors to SITES stations. Therefore, SITES is very happy to report that the first forest excursion in a very long time was held at Asa research station on Wednesday evening the 25th of August.
Almost 60 forest owners participated in the event as a part of the project "Climate adapted forestry". The theme of the excursion was focused on tree species selection in a changing climate as well as windthrow mechanisms and mitigation of risk with silvicultural tools. During the event participants were guided through Asa's forest stands, such as the 29-year-old stand of Hybrid larch (
Larix x marschlinsii
) as seen in the photo above.
The event was held in cooperation with Linneaus University and Vuxenskolan.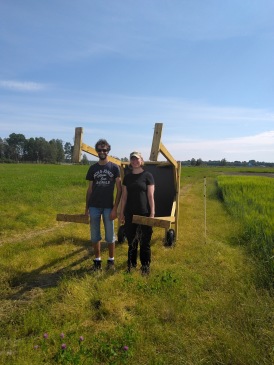 In May, Röbäcksdalen and Lönnstorp station received the good news that they can be a part of the Lifeplan project, which is a global project to monitor biodiversity. Many of the other SITES stations are already participating. However, intensive management and the urban location of the two agricultural stations made it difficult to fit into the original model of Lifeplan. However, SITES and Lifeplan have now agreed on a modified participation for the two agricultural stations.

The modified participation includes two monitoring activities, where Lifeplan provides the equipment and SITES supports analyses cost. The stations will collect insects, with a Malaise trap, and spores, with a cyclone sampler. The samples will be collected and analysed in the same way as for the regular participating Lifeplan stations.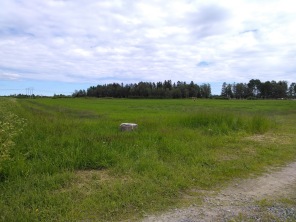 The Lifeplan project at Röbäcksdalen will follow the crop rotation of one of the fields. A crop rotation is typically five years; one year with barley, one year with ley establishment undersown in barley and then three years of ley. Since Lifeplan will continue for five more years, chances are good that the collections at Röbäcksdalen will be made during all the different crop rotations. This system means the Lifeplan equipment will have to be removed from the field each time there is a harvest or a management practice taking place on the field.

If things go well, Röbäcksdalen hopes to continue to collect biodiversity samples even beyond the scope of the Lifeplan project. All data from this collection will be available on the SITES Data Portal, and additional information on the fields will be available through the SMURF data project- compiled data from the dairy barn's 300 ha cultivated land.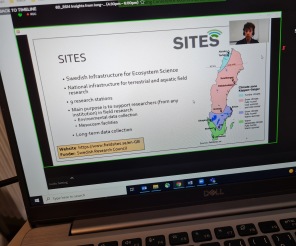 SITES was present at the 12th Symposium for European Freshwater Sciences (SEFS) virtual conference held this week. During the session, Insights from long-term datasets, Jorrit Mesman, a PhD student in the SITES network, presented research based on data collected at Lake Erken.

As part of the SITES Water program, long-term, high-frequency weather and lake temperature data is collected (Layer 3- Physical variables). This data can support modelling efforts to reconstruct past climatic effects, predict future changes, and investigate effects of extreme weather events on lakes. The SITES Water program further collects lake chemical, biological and greenhouse gas (GHG) data, that can be combined with physical lake modelling efforts.

The presentation given by Jorrit Mesman at SEFS showcased Lake Erken's long-term physical and biogeochemical data – the data was used to calibrate and validate a coupled physical-biogeochemical model investigating effects of storms on phytoplankton biomass in Lake Erken. The results showed that wind speed had non-monotonic effects on phytoplankton, where phytoplankton either increased or decreased after storms. Strong solar radiation and high hypolimnetic nutrient concentrations promoted phytoplankton growth after a storm, but if the mixed layer before the storm was deep, the storm had less impact.

Jorrit Mesman is a PhD student jointly at the University of Geneva and at Uppsala University enrolled in the PhD project titled, Assessing future effects on lake ecosystem resilience using data analysis and dynamic modelling, part of MANTEL: a Marie Skłodowska-Curie Action European Joint Doctorate Innovative Training Network. As part of his PhD project Jorrit has spent time at SITES Lake Erken with Don Pierson as a co-supervisor.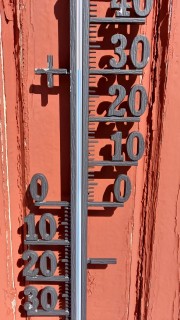 The summer 2021 is facing a heat wave across the northern hemisphere with temperatures rising to more than 10°C above the long-term average in some regions of Scandinavia.

International media has been covering this topic with focus on the extreme high pressure system over parts of Canada, but Finland, Norway and Sweden are also of special interest for meteorologist as The Guardian reported last week.

SITES maintains long-term meteorological stations that allow for temperature trends to be monitored across several regions in Sweden. In northern Sweden daily air temperature data from Tarfala Research Station and Abisko Scientific Research Station show that in early June of this year temperatures were higher than the average June temperature of previous years (see graphs below). This data is openly available on the SITES Data Portal for use by the research community and those interested in analysing long-term temperature trends.

Check out the most recent meteorological data updates from SITES stations at Tarfala Research Station and Abisko Scientific Research Station.

Reproduction is the focus of much of the wildlife monitoring in spring and early summer at Grimsö Wildlife Research Station. Two of the species monitored are starlings and red fox.
Starling (
Sturnus vulgaris
) reproduction has been monitored annually at
Grimsö
since 1981. The survey is part of a national system which was initially started to detect potential effects of pesticides used in agriculture at the time. At Grimsö, 150 nest boxes, distributed in six separate areas, are checked several times during the reproductive season and the dates of egg laying, fledging etc. are noted. A slight but significant decrease in starling numbers, but not nesting success, has been observed over time. The factors behind the decrease is unclear, but it is at least partly thought to be related to a reduced use of grazing cattle.
Red fox (
Vulpes vulpes
) reproduction has been monitored in Grimsö wildlife research area since 1973. In this survey, ca. 190 dens are checked annually for signs of red fox and badger (
Meles meles
) reproduction. The local fox abundance, which may vary a lot between years, is an important factor and a classic topic in wildlife ecology since fox densities may strongly influence population fluctuations of many small game species like hares and grouse. The fox reproduction in turn, is strongly related to the seasonal abundance of voles which are an important food resource for foxes.

Mark your calendar for 29 Nov – 1 Dec 2021 as we hope the SITES All Hands Meeting can take place in person at Sigtunahöjden!

The meeting planning has begun and in the coming months, the SITES Secretariat, along with a meeting committee made up of SITES community members, will develop and plan the meeting agenda and activities.

Detailed information about the meeting will be sent out closer to the meeting date.
We look forward to bringing the SITES community together for this event and really hope things continue to progress so we can meet in person!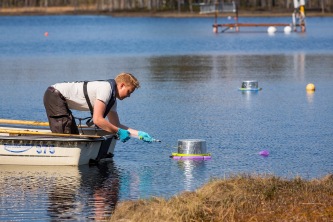 As part of the
SITES Water
monitoring program, floating chambers are used to determine greenhouse gas (GHG) emissions of carbon dioxide (CO2) and methane (CH4) from lakes. The GHG program is conducted at five stations (Abisko, Asa, Erken, Skogaryd and Svartberget) and runs throughout the open water season. The sampling strategy, three transects each with four chambers spread across a depth interval, is based on the lake depth structure and is individual for the different stations. Since
the lakes
are spread across different climate gradients, the open water season varies, with lakes located in southern Sweden able to start the program earlier in the year.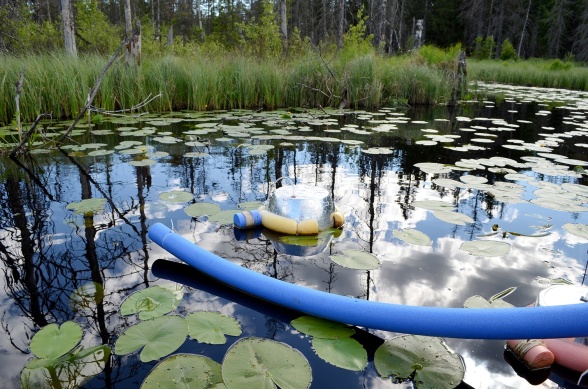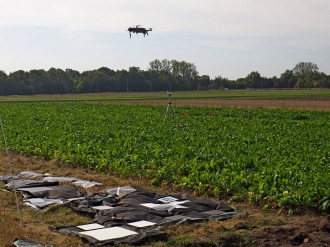 As part of SITES Spectral, the SITES stations operate drones in the form of small helicopters, equipped with RGB and multispectral cameras.
RGB cameras are useful for mapping the ground in natural colors in 3-D. Multispectral cameras record images in several wavelengths, including near-infrared, and are useful for monitoring vegetation conditions. Depending on camera type and flying conditions, data need to be calibrated to provide accurate data for quantifying vegetation amount.
Per-Ola Olsson, researcher at Lund University, and collaborators have carried out an analysis of errors related to calibration, and developed a methodology for calibration that minimizes variations related to incoming light fluctuations. The analysis shows that calibration is an important step to be carried out before quantitative analyses of multispectral data from drones.
The results and useful guidelines for how to carry out the calibration were recently published in the open access journal Remote Sensing.
Reference
Olsson, P.-O., A. Vivekar, K. Adler, V. E. Garcia Millan, A. Koc, M. Alamrani & L. Eklundh (2021)
Radiometric Correction of Multispectral UAS Images: Evaluating the Accuracy of the Parrot Sequoia Camera and Sunshine Sensor
. Remote Sensing, 13, 577.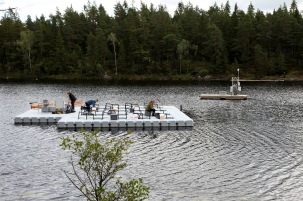 The AquaNet team, led by the programme coordinator Silke Langenheder, are proud and happy to announce that a detailed description of the SITES AquaNet infrastructure has now been published in Limnology & Oceanography Methods!

SITES AquaNet offers:
openness to the scientific community
the possibility to use natural lake communities for experiments
the possibility to conduct and participate in modularized experiments across time and space
high frequency sensor systems
expert support by our technical staff and
access to data from the accompanying monitoring programme SITES Water.
To test the infrastructure we conducted a modularized experiment along the latitudinal gradient offered by the five lakes included in SITES AquaNet. More specifically, we manipulated a press disturbance (light reduction) and a pulse disturbance (temporary presence of fish in the mesocosms). With this we could demonstrate the suitability of the infrastructure and autonomous sensor system to host modularized experiments and provide a good example of the power and advantages of such experiments.

Publication (open access)
Urrutia-Cordero, P., Langvall, O., Blomkvist, P., Angeler, D., Bertilsson, S., Colom Montero, W., Eklöv, P., Aagaard Jakobsen, N., Klemedtsson, L., Laudon, H., Liljebladh, B., Lundgren, M., Parkefelt, L., Kelpsiene, E., Pierson, D., Rankinen, J., Striebel, M., Tranvik, L.J., Weslien, P., Hillebrand, H. and Langenheder, S. (2021), SITES AquaNet: An open infrastructure for mesocosm experiments with high frequency sensor monitoring across lakes. Limnol Oceanogr Methods.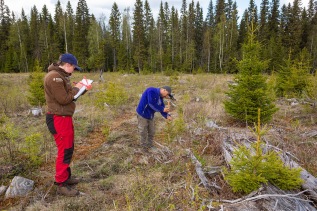 Cooperation with landowners is vital for SITES research focused on sustainable forest management. For example, in a new silviculture project, researchers from SLU, in cooperation with Skogforsk and forest companies, will take an experimental and novel approach on the establishment of pine stands in northern Sweden. Field technicians from Svartberget Research Station will be responsible for the establishment and future monitoring of the field trials.

In total, 19 silvicultural trials will be established over a period of two years on forestland of varying fertility. For some trials, many years have passed since the actual felling. The aim is to study the long-term effects of tree species, soil preparation, reforestation method and plant-fertilization.

Recent inventories of young stands in the interior of Norrland have revealed low stem and quality stem numbers per hectare. In particular, many young pine stands show trees severely damaged by, among other things, moose grazing and fungal infections. The so called multi-damaged pine forests means a large loss in future production. In some cases, the stands are so damaged that the best option is to start all over again. This is very costly for landowners and there is no guarantee that the same problems won't arise again.

Thus, it is important to avoid previous mistakes in silviculture. The experiments will compare several potential establishment alternatives to improve the knowledge of producing young stands.

Two main alternatives will be tested. One based on various measures to accelerate the height growth of the pine plants which would reduce the time they are susceptible to moose grazing. Using an excavator to prepare mounds that allow for group planting is one such example.

The other alternative to be tested is the use of other tree species like Norway spruce, Silver birch, Russian larch (a.k.a. Siberian larch) and Lodgepole pine. Species comparisons in production are either rare or unfavourable. Spruce suffer less from grazing and are not sensitive to the fungal damages that affect pine. To avoid the low production of spruce compared to pine seen on many locations in the interior of Norrland, plant fertilization of spruce will be tested. Birch is relatively untested in the area, while stands with Russian larch often have shown good results in growth but comparisons are lacking. Experimental results and experience regarding site selection and silvicultural methods are very limited for both. Lodgepole pine is relatively common in the area and avoided by game for grazing.

There are extensive trials where the higher long-term production of Lodgepole pine compared to Scots pine is evident, but the wood quality and stability of planted Lodgepole pine on fertile soil may be questionable. Mixed sowing of pine and Lodgepole pine can therefore be a way to increase the probability of having a high production stock with a sufficiently high number of undamaged stem.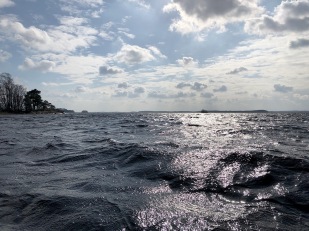 In a new project, the wave climate at Lake Bolmen will be investigated to gain new insights about the hydrodynamics of the lake and the waves' effect on water quality. Recent measurements of water pressure will be used to help to calibrate and validate wave models, which will be a helpful asset for analysis of current and future conditions.
Lake Bolmen
is Skåne's most important drinking water resource. The lake's ecology and chemical status has changed during the last decades and some of these changes could negatively affect water quality. One of the most noticeable changes is the effect of brownification, resulting in yellow to brown colored water due to the increase of humic substances and iron leachate from the catchment. One aim of the
Bolmen Research station
is to create knowledge that helps to sustain Bolmen as reliable water resource, ecosystem and place for recreation. Therefore, further insight into changes to water quality is important.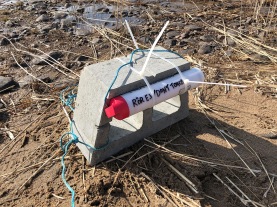 One factor influencing water quality is the hydrodynamics and the wave climate (see fact box below) of the lake. This is because waves mainly determine transport and mixing conditions through the whole lake and within the water column. Due to Lake Bolmen's relatively large size (183 km2), waves induced by wind are likely to occur, but specific knowledge about them is limited. With the application of a wave model, that later will be combined with a general hydrodynamic model, a better understanding of Lake Bolmen's hydrodynamics will be gained.

Recently conducted measurements of water pressure will help to calibrate and validate this model. Even though measurements have only been recorded on a single side of the lake, the contribution is rather large as this is the first real measurement of this kind. In addition to the simulation of the present wave climate at Lake Bolmen, analysis of future conditions due to changes in climate and ice cover will be conducted.

In the future the wave measurements will be extended and additional water quality measurements at different locations within the lake will be conducted. This will allow a more detailed combined analysis of water quality changes and interactions with hydrodynamics and the wave climate present at Lake Bolmen.

Text: Clemens Klante, Sweden Water Research and Lund University.
Wave climate
Wave climate is defined as the distribution of wave height, period, and direction averaged over a period of time for a particular location.

Source: Herbich J.B., Walters T. (1987) Wave climate. In: Climatology. Encyclopedia of Earth Science. Springer, Boston, MA. https://doi.org/10.1007/0-387-30749-4_195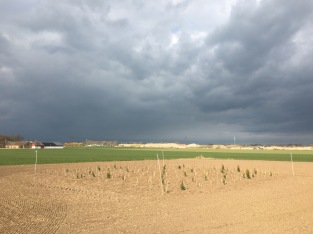 A new project will investigate the role of plant traits and mycorrhizal on plant-soil feedback as well as on microbial community assembly and functioning during seedling establishment. Experiments will be done at the two SITES agricultural stations and therefore include agricultural land in southern and northern Sweden.
The project at
Lönnstorp
and
Röbäcksdalen
research stations aims to answer questions around the relative importance of different woody-plant traits, such as leaf and root habits, together with mycorrhizal associations (symbiotic root associations with fungi) for plant-soil feedback mechanisms (i.e. the growth response of plants when growing in a new soil habitat) and for structuring soil, root and leaf-associated microbial communities and their functioning.
To investigate this, seedlings of twelve different woody plant species, ranging from conifers, such as spruce, and yew to broadleaf species, such as birch and maple, will be transplanted. The different species associate with different mycorrhizal fungi. Some seedlings will be inoculated with forest soil and some will not. Seedlings will also be planted in soil from the station where they are not planted (i.e. some seedlings at Lönnstorp will be planted in soil from Röbäcksdalen and vice versa) to account for differences in abiotic and biotic factors between the two sites.
The growth of the plants will be measured over two growing seasons, during which leaf associated microbial communities and nutrient concentrations will be analyzed. At the end of the experiment rhizosphere soil will be collected to examine the chemical properties and the microbial communities.
The results will hopefully contribute to the knowledge about which traits of the plant-soil system are central in altering the growth habitat (negatively or positively) during afforestation. In addition, these results could give an indication of the implications on ecosystem processes such as carbon and nutrient cycling across different climates over the short term, together with unravelling basic ecological questions around the assembly of plant-associated microbial communities and their functioning.
Text: Tarquin Netherway, Department of Ecology, SLU.
Even though arctic winds have reduced the temperature outside, spring is on its way. And with the spring approaching, so is the seasonal start of the Phenology monitoring programme at Asa research station.
Phenological observations are made on birch, spruce and pine trees as well as on bilberry and lingonberry bushes. Shoot development, autumn leaf colouring, leaf felling and flowering are followed as part of the phenological observations. The monitoring programme started in 2006.
Example data from Asa Phenological Monitoring
Relative number of flowers, unripe and ripe berries of lingon, according to phenology assessments made in Asa between 2006 and 2020. Lines represent the 15-year average (solid) and standard error (dashed) numbers. Left panel show number of flowers, unripe and ripe berries vs. date and right panel vs. temperature sum, calculated from air temperature at standard height from the meteorological station in Asa.
Relative number of flowers, unripe and ripe berries of bilberry, according to phenology assessments made in Asa between 2006 and 2020. Lines represent the 15-year average (solid) and standard error (dashed) numbers. Left panel show number of flowers, unripe and ripe berries vs. date and right panel vs. temperature sum, calculated from air temperature at standard height from the meteorological station in Asa.

Shoot development of Norway spruce, according to phenology assessments made in Asa between 2006 and 2020. Pink dashed lines indicate single year development, black lines represent the 15-year average (solid) and standard error (dashed) shoot development. Left panel show shoot development vs. date and right panel vs. temperature sum, calculated from air temperature at standard height from the meteorological station in Asa.

Shoot development of Scots pine, according to phenology assessments made in Asa between 2006 and 2020. Pink dashed lines indicate single year development, black lines represent the 15-year average (solid) and standard error (dashed) shoot development. Left panel show shoot development vs. date and right panel vs. temperature sum, calculated from air temperature at standard height from the meteorological station in Asa.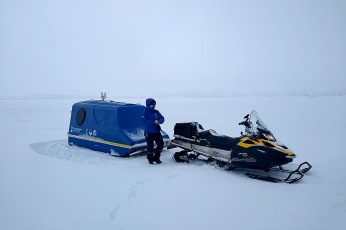 At the Abisko Scientific Research Station (ANS) the vehicle fleet was recently expanded with an "ark". Here, Magnus Augner, station manager, tells what an ark is and why it was acquired.

Up here in Norrbotten, an "ark" is a kind of living module, usually with a stove, which you pull out on the lake ice with a snowmobile. In the floor of the ark there is a hatch through which you can do ice angling, while you have a nice time in the warmth inside.

A few years ago, Håkan Grudd, deputy station manager, got the idea that arks might be something for our Antarctic expeditions. He contacted several manufacturers and in the end we decided on Järvsöarken. A special feature of their arks is that you can place a snowmobile inside the ark, which is a great advantage for transport and storage for a longer period of time.

After some discussions, they built three arks for us, which were then adapted to our needs in Antarctica, with e.g. snow melter, stove that allows cooking and solar cells for charging batteries. In the field season 2017-18, we used them for the first time on an expedition and it was clear that this was a good concept for expeditions into "deep field", i.e. so far away from research stations that one has to be self-sufficient, with the exception of fuel depots. Each "two-people set" consists of two snowmobiles, an ark, and a snowmobile sled (for fuel, research equipment, food, etc.)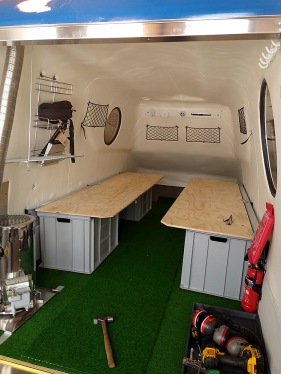 Why snowmobile arks? A large cost and a clear environmental impact is the fuel that must be transported down to Antarctica in order to conduct all types of activities. Looking for light-weight solutions that also have a high level of security is always an important part of our development of Antarctic logistics. Being able to live "indoors" in a warm space, which does not take time to set up, makes life on expeditions much more comfortable and safer than living in a tent.

In order to primarily be able to show and test living in arks during field courses, we have also purchased an ark for ANS. This also provides possible support for researchers who want to be able to live in the field in winter, away from the station and our field cabins.

Version 2 of our ark is 20 cm wider than the first one, which means that the beds are now 60 cm wide instead of 50 cm. The ark is equipped with fire extinguisher, carbon monoxide alarm, fire blanket, lighting, solar cells, 12v battery, USB charging, inverter 230 V, stove etc. In short, a small well-equipped "caravan" for snowmobiles, where two people can live quite comfortably.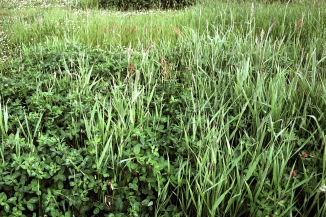 A new project with field experiments in both Lönnstorp and Röbäcksdalen will investigate the effects of seed dispersal and plant arrival order on grassland vegetation, plant biomass and insect diversity.
Why do plants grow where they grow? Certainly, it is partly due to the environment of a particular site that will favour some species, while deterring others. However, even with knowledge of the local environmental conditions, it is notoriously difficult to predict vegetation compositions using environmental variables alone. This leads to the suspicion that more must be going on. Could chance or luck play a role in shaping the vegetation?
One way plants could experience luck is by having their seeds arrive early to a place that is open for colonization. The arrival time of seeds will depend on seed dispersal, which is known to be very stochastic and therefore a process where chance is involved. Arriving early typically comes with certain benefits, such as access to nutrients, water and sunlight, causing the early arriving species to be more likely to successfully establish. The arrival order of species at a site could thus be one factor that shapes the vegetation.
But how could this idea be tested? It is not possible to go to a field and figure out which of the species was first on the scene. That's why experiments are needed. Judith Sarneel (Researcher) and Tamara van Steijn (PhD student) from Umeå University will work together with SITES in both
Lönnstorp
and
Röbäcksdalen
to set up large scale grassland experiments, starting this spring/summer. In their plots they will introduce a set of grassland species with varying arrival orders between the plots.
The development of the vegetation, as well as the effects on the insect community, above and below ground biomass and other parameters, will then be followed over the years to come.
The results could potentially be useful in restoration of grasslands. Specifically, when seed sowing is used as a restoration method, it would be possible to manipulate the order of sowing in a way that benefits the species that are deemed most interesting.
Text: Tamara van Steijn.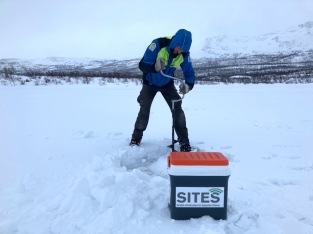 SITES is mapping lake sediments for the lakes included in the thematic programmes SITES Water and SITES AquaNet, to enable a better understanding of biogeochemical processes within the lakes. Sampling has now started at Lake Almbergasjön at Abisko Scientific Research Station.
Since the lake is still ice-covered,
Abisko
research engineers Niklas Rakos and Erik Lundin took the opportunity to collect a deep sediment core. Using a Russian corer, nearly 3 meters of sediment from Almbergasjön was collected.
The sediment core was sliced and sediment subsamples stored for later analysis (e.g. water content, C, N, grain size). The sediment mapping campaign on Lake Almbergasjön will continue later in 2021 with a sub-bottom profile survey and gravity core collection across the lake.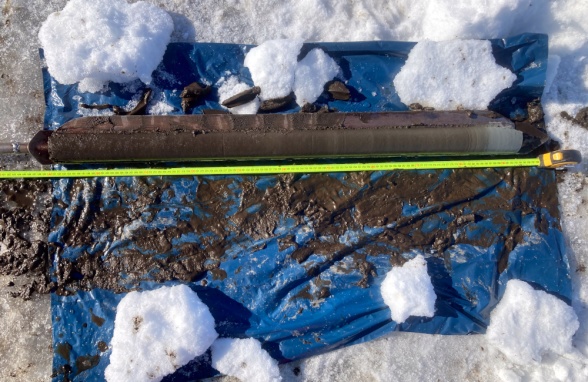 SITES sediment mapping
Sediment sub-bottom profiling has already been conducted and long and short sediment cores have been collected at Lake Erssjön (
Skogaryd Research Catchment
) and at Lake Feresjön (
Asa Research Station
). Sediment cores have previously been collected for Lake Tarfala and a high-resolution bathymetry map exists (
Kirchner et al. 2019
). A sediment sub-bottom profiling survey was conducted for Lake Erken in 2017.
Read more about the sediment sampling in news articles on SITES web and in our newsletter: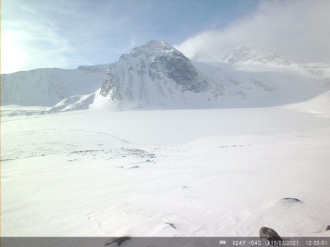 Constrained by the pandemic, a smaller than usual crew has arrived at Nikkaluokta for onward travel to Tarfala as soon as weather conditions allow it.
While waiting, the extra time is used to resupply with spares and food. Once at Tarfala, field work will be carried out at
Storglaciären
and
Rabots glaciär
(two of the World Glacier Monitoring Service's so-called reference glaciers),
Mårmaglaciären
, and
Riukojietna
.
The time lapse camera, overlooking
Lake Tarfala
, will also be visited, and high-resolution pictures taken since the fall will be collected. Low-resolution footage is sent occasionally (depending on weather) via MMS. The images collected contribute to a better understanding of lake ice phenology, which impacts lake mixing and other important processes in the lake.
Text: Nina Kirchner.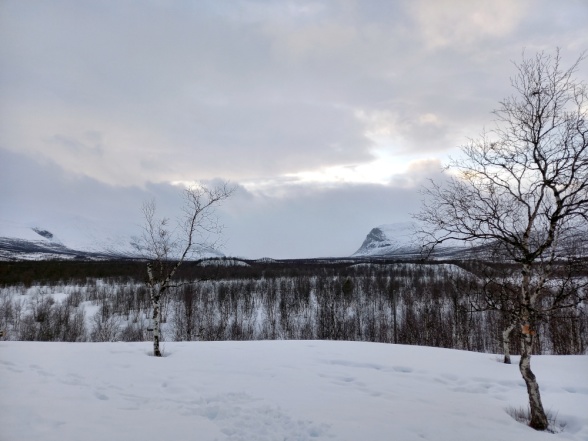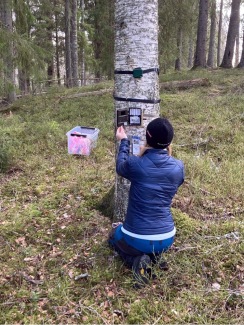 At Grimsö, this season's field work has now begun for several of the time series monitored in SITES. For example, the collection of phenology data on plants and birds is ongoing.
Dates of e.g. emerging buds and blooming are noted weekly for plants (following the national system
Svenska fenologinätverket
), and for birds the first observation of each migratory species (ca. 60) within the research area has been noted annually since 1982. Thanks to the rapid disappearance of most of the snow, the spring survey of wildlife pellets (six herbivore species) and habitats could also be started this week. Among the external projects on large carnivores, it is now season for marking wolves (
Canis lupus
) and wolverines (
Gulo gulo
).
The sampling for the international Lifeplan project (see below) has been initiated, and so far, the wildlife cameras and audio recorders are up and running in the plot at Grimsö. The Malaise trap and Cyclone sampler will be deployed later this spring when conditions are more suitable.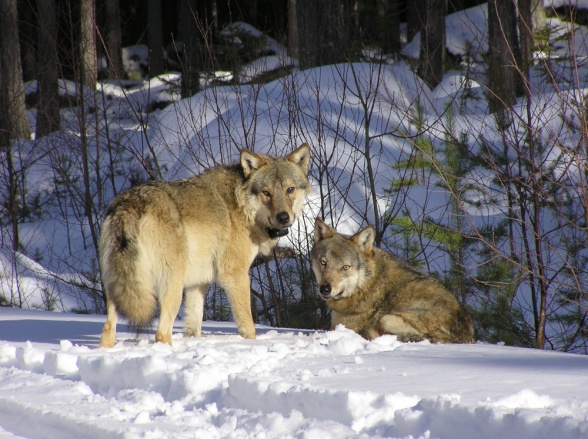 Lifeplan
Lifeplan is a global biodiversity project that will map life on Earth through DNA sampling, sound and image data, as well as traditional methods such as Malaise traps. Besides Grimsö, SITES stations in Asa, Erken, Skogaryd, and Svartberget as well as the associated station Bolmen, participate in Lifeplan.

Read more about Lifeplan at the University of Helsinki.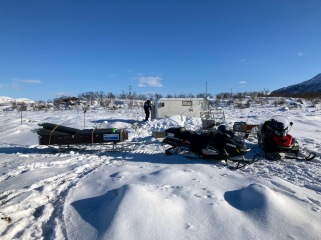 Winter is a generally a period of low activity at
Abisko Scientific Research Station
, but it is also a good time for heavy overland transport, like changing the gas bottles for the EMERGE project in Stordalen.
The aim of the EMERGE (
EMergent Ecosystem Responses to ChanGE
) project is to improve the understanding of how thawing permafrost systems respond to climate change and subsequently cause change, with a focus on carbon cycling and microbial populations and communities. The EMERGE project is multi-disciplinary, spanning across biochemistry, genetics, molecular biology, physiology, ecology, evolution, and ecosystem science.
The resultant framework will also provide a foundation for assessing microbial change in other ecosystems.
EMERGE is lead by Virginia Rich (Univ. of Ohio), Ruth Varner (Univ. of New Hampshire, presently at Stockholm University), and Scott Saleska (Univ. of Arizona), and is a continuation of and development from the IsoGenie project.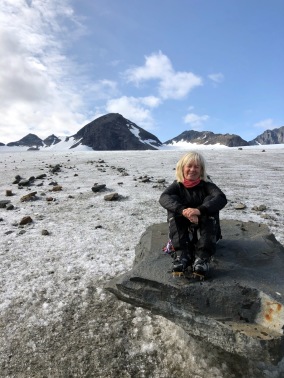 Ninis Rosqvist has stepped down as director of Tarfala Research Station after 16 years. The station leadership has been handed over to Nina Kirchner and Per Holmlund as new director and vice-director, respectively.
Both
Nina Kirchner
and
Per Holmlund
are researchers at the Department of Physical Geography, Stockholm University. Nina Kirchner is an associate professor of glaciology, and Director of the
Bolin Centre for Climate Research
. Her research focuses on prediction and reconstruction of future and past ice sheet and glacier dynamics in the Arctic and the Antarctic, where she has also conducted fieldwork. Per Holmlund is a professor in glaciology with an emphasis on climate and a long record of work in high alpine areas and in polar regions. He was the station director of Tarfala from 1996 to 2004.
SITES would like to thank
Ninis
for all her contributions as director of Tarfala, and looks forward to her continued engagement at
Tarfala Research Station
and in the SITES network! SITES warmly welcomes Nina and Per and looks forward to working with them both.
An upcoming opportunity to hear more about Tarfala is at the
vEGU2021
meeting (April 19-30), where several talks focusing on research conducted at and around Tarfala Research Station will be presented!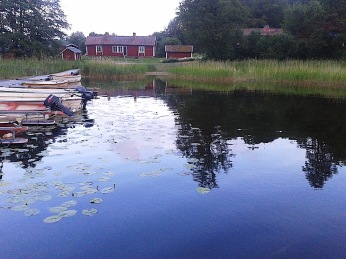 The Erken Laboratory (Uppsala University) has an open 2-year position for a research engineer connected to
Erken's long-term lake monitoring programme
,
SITES Water
and mesocosm experiments conducted within
SITES AquaNet
and the EU-project
AQUACOSM-plus
.
The research engineer will support and conduct field measurements, including maintenance of equipment and installations, such as in situ autonomous sensor systems and experimental facilities and data management (e.g. QA/QC). Another important task is the coordination of a distributed mesocosm experiment within AQUACOSM-plus that is planned for 2022 at several SITES stations.
Administrative tasks such as purchases of equipment, reporting, communication with visiting researchers etc. are also part of the position.

Application is due by 15 April 2021.

More information, including a link to the application system can be found here: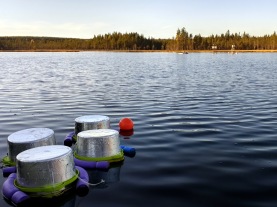 As two of the latest SITES news items have shown, now is the time for calibrations and other preparations for the upcoming field season. At Svartberget, preparation for the SITES Water greenhouse gas program is underway and a technical workshop was hosted to prepare for the upcoming field work.
At
Svartberget
the summer season has not begun, but various calibration activities are about to start, which can be regarded as an early indication of spring. For example, carbon dioxide sensors will soon be prepared as part of the SITES Water lake greenhouse gas measurement program.
It is not only about getting sensors and equipment in shape. The previous week
Svartberget
and
Asa
staff had a virtual technical workshop within
the Unit for field-based forest research
at SLU, which hosts the SITES stations in
Svartberget
and
Asa
. The workshop had several aims. First, to "calibrate" the station's routines for field work and to share knowledge about them among the technical staff. Second, to share routines and knowledge on collected field data within the unit. Last but not least, it was an opportunity to coordinate all stations managed by the Unit for field-based forest research, i.e. the stations at Tönnersjöheden,
Asa
, Siljansfors and
Svartberget
.
During the workshop, there were discussions about new regulations regarding unmanned aerial vehicles (drones), the experiences of the Postex-system (used to determine the geographical position of e.g. trees), the Field-data-system software (used to collected data from instruments) and the Freedata-software for measurement of field trials. The collection of phenology data and the outcome and demand for it was also covered, as well as the
databases administered by the Unit for field-based forest research
(for example the field-trial database, Silvaboreal and the Safe deposit).
The workshop was much appreciated and will be followed by shorter meetings during the spring, focused on, for example, the outcome of the external environmental audit held in February, water sampling protocols and terrestrial laser scanning.
Text: Johan Westin.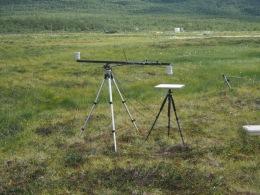 The multispectral sensors used in SITES Spectral are regularly calibrated, to monitor their performance and detect possible misfunctioning. By training the personnel at each station, the time the sensors are not collecting data is reduced and the frequency of calibrations can be increased to once a year. Therefore, SITES recently organized a calibration workshop for personnel at the stations.
The workshop had several aims. First, to share knowledge among the stations and technical stuff and strengthen skills within SITES Spectral. Second, to improve the efficiency of data collection and quality. Last but not least, it is positive for the staff at the stations to have a comprehensive understanding of the entire data generating process.

During the workshop, there were discussions about the necessary equipment, the best time and place to perform the calibration, the calibration process itself, and report of results on a calibration certificate. It was an interactive conversation where all participants shared their knowledge and experience for creating the best conditions for reinforcing the fundamentals needed to perform the calibration at their station.

Text: Virginia Garcia.

The Workshop was held on 17 February 2021 and was run by Virginia Garcia, Research Engineer in SITES Spectral (
virginia.garcia@nateko.lu.se
). Given Covid-19 restrictions, the workshop was held online. Personnel from seven SITES stations participated.
Recently, information about the more intensively studied lakes, in Thematic Programs
SITES AquaNet
and
SITES Water
, was added to the SITES website. There are seven lakes, Almbergasjön, Bolmen, Erken, Erssjön, Feresjön, Stortjärn and Tarfalasjön, at seven different stations that are central for SITES AquaNet and SITES Water. Use the link below to read more about each lake.
The lakes in SITES AquaNet and SITES Water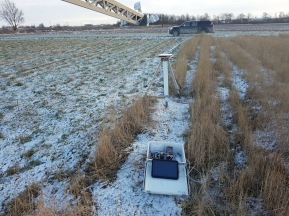 After a mild autumn, the real winter has arrived at Lönnstorp Research Station. Over the last two weeks, temperatures have been below zero, with a minimum of -12ºC, according to the automatic weather station. These low temperatures have caused ice to form on the sea surface, which is just 3 km away from the station, and the fields around the station are covered in snow.
Despite the winter conditions, the station staff are already thinking about the spring season, as there is less than two months until the first crops should be sown and therefore time to check and calibrate the spectral equipment.
The spectral equipment consists of three phenocameras and two NDVI sensors (see fact box), powered by a solar panel and placed on a 10 meter high tower. The station staff implement regular revisions of all equipment and currently they are calibrating the NDVI sensors.

Text: Ana Barreiro.

Normalized difference vegetation index
Normalized difference vegetation index (NDVI) is an index that describes the greenness of the vegetation. Through SITES Spectral, SITES monitors NDVI at Lönnstorp Research Station and six other stations.

The data from SITES Spectral is available through SITES Data Portal.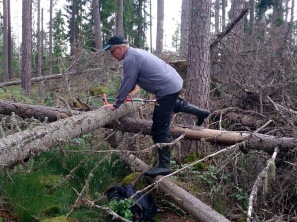 Studying natural or semi-natural forests gives us a better understanding of the effects of forestry. However, since disturbances such as storms are a part of natural ecosystem, field work is sometimes challenging.
The monitoring program IM -
Integrated monitoring
- follows both physical and chemical processes and their impact on the biological system in four small catchments dominated by coniferous forest, located in different parts of Sweden's climate and air pollution gradients. One of the areas, Aneboda IM, is through SITES associated with
Asa Research Station
. A severe storm hit Aneboda sixteen years ago, and the effects are still impacting the biogeochemical status and field work in the area.
During 8–9 January 2005, southern Sweden was hit by
Cyclone Gudrun
. At
Aneboda IM
, maximum wind speeds exceeding 20 meters per second were recorded over nine hours. About 15–20 percent of the trees were knocked down by the storm.
After the storm, the fallen Norway spruce trees (
Picea abies
) attracted bark beetles (
Ips typographus
), which caused a massive insect outbreak. The beetles infested a large proportion of the Norway spruce trees that survived the storm. In the 2011 survey, almost half of all Norway spruce trees with diameters larger than 20 cm were dead.
The slideshow above shows how the forest in one of the plots where the vegetation is monitored changed from a closed old growth Norway spruce stand to an open area with primarily birch saplings and large amounts of coarse woody debris, during the years 2004–2019.
Facts about Aneboda IM
The Aneboda IM site and the nearby forest and bog are part of a nature reserve. Long-term monitoring in Aneboda IM was initiated in the mid-1990s in semi-natural coniferous forests, where atmospheric deposition of pollutants and anthropogenically induced climate change are the main human disturbances.
Aneboda IM is one of four Swedish IM catchments within the program
Long-Term Ecosystem Research in Europe (eLTER)
. These programs provide infrastructure, data and management for research at reference conditions on hydrological and biogeochemical processes, including interactions with the biota.
Issues of special interest are soil and surface water acidification, weathering, carbon sequestration, leaching of nutrients, DOC and trace metals, including Hg, as well as the biological effects on organic matter decomposition, bioelement uptake by vegetation and changes in the microbial and vegetation communities down to species level. The semi-natural state at these sites defines the limits for what could be expected without forest management, e.g. defining background conditions and elemental dynamics at reference conditions.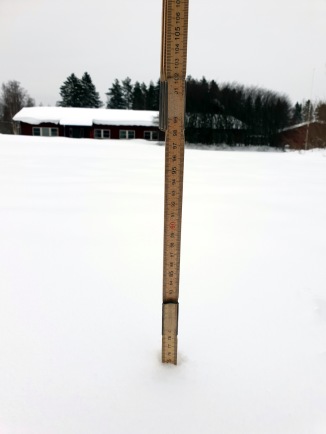 The weather this winter around Umeå in northern Sweden has so far been erratic. Both November and December were unusually warm with little snow, but in January the temperature fell, it started to snow, and multiple snowstorms occurred during a period of just a few days.

Snow situation at Röbäcksdalen
Röbäcksdalen Field Research Station is measuring snow depth since 2010. So far this season, 75 cm of snow have accumulated at the station, which is the deepest snow cover since the recording started. Usually, the highest snow depths are measured later in the season which shows the magnitude of the current situation and that there is a possibility for more snow to come before this winter is over.
Almost a meter of snow at Svartberget – a record for January
At Svartberget research station, about an hour drive inland from Umeå, the snow depth increased with over 60 cm during the period with several snowstorms in January, which added onto the already existing snow cover.
Svartberget has measured snow depth since 1980 and the record so far is from 1988 when 113 cm was recorded. A lot of the snow that year fell in February and March. The accumulated 97 cm of snow this January is the deepest ever recorded so early in the season, but the most astonishing is in how short time the snow assembled.

The local newspaper refers to old farmer's traditions, which says that half of winter's snow should have arrived by now. However, data from previous years at Svartberget show that half the amount of snow usually has arrived by Christmas time and that the maximum snow depth is in the beginning of March. The same data supports the likelihood that another 10-20 cm of snow will fall before the winter is over. However, the variation between years is large and climate change makes it difficult to predict the weather, especially in the past years.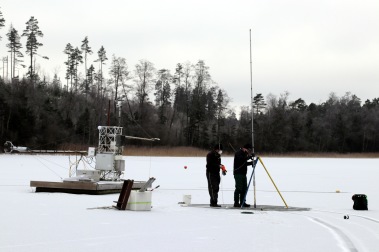 Sediment investigations that enable a better understanding of biogeochemical processes are ongoing in the
thematic program SITES Water
.
During the autumn 2020, an initial sediment investigation was conducted at
Lake Erssjön
and
Lake Feresjön
(
see SITES December Newsletter for more information
). To determine the sediment depth a sub-bottom profiler (Innomar SES-2000) was used. The profiler uses acoustic signals of different wavelengths to produce images showing bottom surface, sediment layers and underlying bedrock. However, gas bubbles in the sediment layers can make it difficult to interpret the bottom profile images and the bubbles can mask the bedrock transition zone. To counteract these issues, during the initial campaign, surface sediment was collected from many locations and deep sediment sampling was carried out at the deepest point of the lake.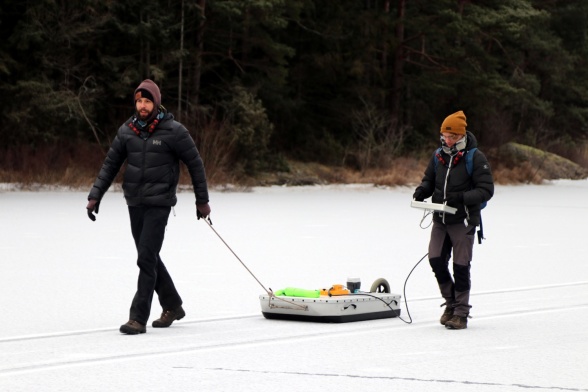 Data from the initial sediment sampling of Feresjön identified the depth of the soft sediment layer, however some areas were shadowed by bubbles. For Erssjön the data was more difficult to interpret, which, in part, was due to data shadowed by bubbles.

Thus, additional data from Erssjön is needed to interpret the data. Fortunately, the ice-cover that formed in January 2021 on Erssjön made further investigations possible, as a stable platform is required for working with deep sediment cores.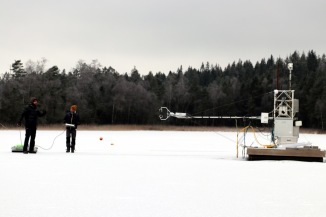 Deep sediment sampling at the deepest point of the lake, using a "Livingstone" corer, was conducted. Five locations were also sampled for sediment to assist the interpretation of data from the sub-bottom profiler. Furthermore, a geo-radar was tested. Sediment depth mapping using a geo-radar could potentially compliment and improve future campaigns.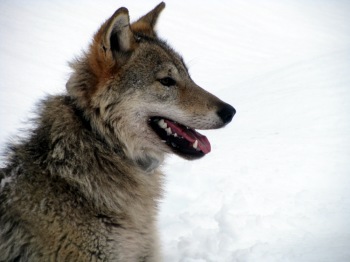 The most intense field survey work at
Grimsö Wildlife Research Station
is in spring and summer, although important work is also being done during the winter months. A number of surveys at Grimsö run throughout the year, some of which peak in winter. Some fieldwork and data collection are facilitated by snow, and for some methods snow is required.
Typical winter activities at Grimsö are, for example, to catch and mark roe deer (Capreolus capreolus) and wolves (Canis lupus). Due to limited food availability in winter, especially if there is lots of snow, roe deer are more easily trapped. Roe deer monitoring has been ongoing for more than 40 years and over 1,000 roe deer have been captured during this time. The data collected includes life history traits, kinship and body measurements.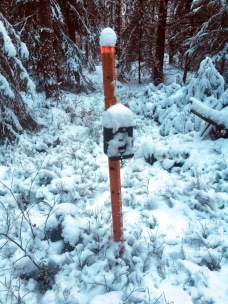 The dominating method to catch wolves is via darting (immobilization) from a helicopter, which is easier during winter as the wolves are easier to spot when the ground is covered by snow. The same goes for obtaining reliable results from aerial surveys of moose (
Alces alces
). However, too much snow can create some problems or delays in sampling, such as difficulty in reaching the study area due to road closures. Therefore, snowmobiles are sometimes used during winter. Another problem that may occur is that wildlife camera becomes covered by snow, resulting in blacked out pictures until they are cleaned.
Winter is also the time for planning for upcoming field work. At Grimsö, plans to start the sampling for the
LIFEPLAN
project, along with other SITES stations, is already underway.
The SITES Secretariat, SITES Station Directors and a selected core writing group of Swedish researchers in ecosystem science, are currently busy preparing an application for the 3rd phase of SITES funding (starting in 2023). The Swedish Research Council has opened a call for grants to research infrastructures of national interest.

Research infrastructures, like SITES and its research stations, are crucial to support the national and international research community with long-term, high quality monitoring data, especially in a warming climate. Advanced user support and mobilization of SITES data are therefore central components in the application. Exciting ideas and new plans to increase our engagement with a broad user community are part of the potential new funding period.

Keep your fingers crossed that it will be a successful application!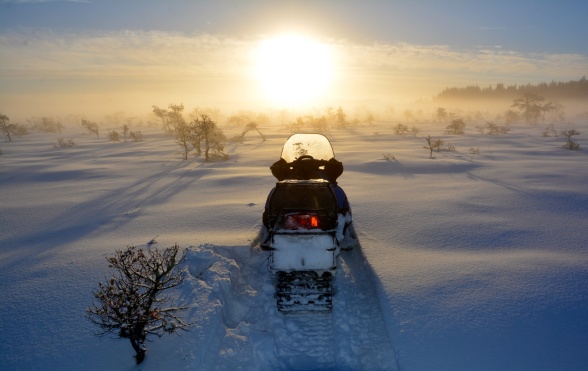 Photographer Gunnar Jansson