Pollinating insects are essential for the reproduction of many plants, including some crops for food production. According to several studies the biodiversity among insects is decreasing, though facts for local conditions can be scarce. At SITES Röbäcksdalen there are a few ongoing projects regarding pollinating insects. The aim is to get a better understanding of which pollinating insects that exists in northern Sweden, but also to create opportunities for researchers to use the station for research about wild and domesticated pollinators and other relevant insects. The station houses two hives with Nordic bees, which are available for researchers to use. Moreover, during the winter we will investigate how we can build up a continuous inventory program around pollinators at the station. There is also registered butterfly walk of 1.2 km at the Swedish butterfly monitoring site for future systematic monitoring activities.
Natuschka Lee, researcher at Umeå University and project assistant Philippe Simon has done an pilot inventory of pollinating insects during the summer, at four different places. Two places were close to meadows and forest landscapes, one was beside a pasture with a lot of white clover, and one was beside the Degernäs creek close to a ley. The Nordic bee was of course one common pollinator, found on different plants and during different occasions. Also, the hoverfly occurred in several places, on several plants and during several occasions, and this was also the case for some butterfly species. More detailed inventory studies will be done during 2020 and genetic and microbial studies of the Nordic bee are also done.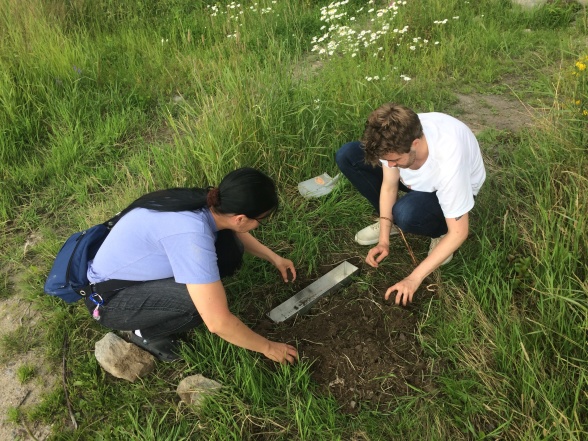 An inventory of pollinating insects in different types of vegetation was done at Röbäcksdalen during the summer 2019. Researcher Natuschka Lee and student Philippe Simon from Umeå University was responsible for the inventory. Photo Johanna Wallsten.
For more information, contact:

Johanna Wallsten, SITES manager Röbäcksdalen - johanna.wallsten@slu.se,
+46 90-786 8716

Natuschka Lee, researcher Umeå University - natuschka.lee@umu.se,
+46 90 786 5447
Läs hela inlägget »
ICOS RI (Integrated Carbon Observation System Research Infrastructure) recently announced that both research sites operated by Svartberget Forest Research station have now passed their strict standardisation and quality control programme. Svartberget achieved Class 2 Ecosystem Station status in May and Degerö celebrated Class 2 Ecosystem Station status in November. Svartberget also gained Class 1 Atmospheric Station status in spring 2018.

The labelling process, including testing and training can take up to a year. There are three steps to the process, after a station makes its initial application to join ICOS:
The Thematic Centre (Ecosystem, Atmosphere or Ocean) produce an evaluation report based on the location of the site, measurement infrastructure and station characteristics. The Director General then checks and approves the evaluation report.
After station approval, there is a more in-depth analysis of the stations compatibility with ICOS measurement protocols and standards. This focuses on equipment setup, data transfer and data quality, supported by the Thematic Centre. In many cases, equipment needs to be changed, new instrumentation installed, and staff trained in new procedures and data handling.
Finally, the General Assemby for ICOS approves the station based on the evaluation report by the Thematic Centre, and recommendations from the Director General.
ICOS is a European-wide distributed research infrastructure, operating standardised, and high-precision long-term measurements. The aim is to facilitate research to understand the carbon cycle, feedbacks and possible tipping points because of climate change. ICOS Sweden operates ten sites from Abisko-Sordalen in the far north, to Hyltemossa in the south, including three Atmospheric Stations, six Ecosystem Stations, and one Ocean Station. The stations represent the different biomes found in Sweden, and are unique in the continental scale of ICOS RI.

Easily accessible and high-quality data is a central tenet of ICOS. The data is available to researchers, government and NGO's that require science-based information on greenhouse gases in policy efforts to mitigate the consequences of climate change. The data are open and free to access at the ICOS data portal site.

Läs hela inlägget »