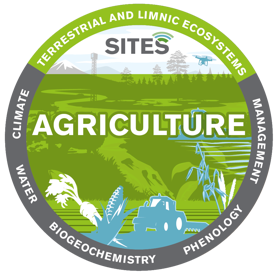 The SITES infrastructure offers research opportunities relating to agricultural landscapes and their ecosystems. At the agriculture stations, both short- and long-term experiments are examining subjects such as cultivation systems, reduced soil preparation, and bioenergy crops.

Read more about what the Lönnstorp and Röbäcksdalen stations can offer you as researcher.

The Asa, Erken, Grimsö, Skogaryd and Svartberget stations are surrounded by agricultural landscapes. The stations are not responsible for activities in these environments, but there is potential for ecosystem research into topics such as migrating birds, carbon and nitrogen balances, and biodiversity studies.
The research area at Lönnstorp is used for both short and long term studies on cropping systems ecology, reduces soil tillage and bio energy corps. The soil is characterized as light clay with 15% of clay and 3 % organic material. SITES Agroecological Field Experiment (SAFE) for studies of future cropping systems can be used in studies addressing plant ecology, soil ecology and agroecology.

At the conventional land (60 ha) the crop rotates on winter wheat, sugar beet, spring barley and winter canola. An area of 18 ha has been converted to certified organic farming with spring wheat with mix of lucerne and grass, lucerne and grass ley, canola, autumn wheat with lucerne and grass, and broad bean with barley.

Two experiments at Lönnstorp address co-cropping between leguminous, beans, and barley. Lönnstorp is also an experiment field for perennial wheat grass which resembles wheat but has at the moment approximate half the yield weight (thousand kernel weight). The perennial wheat grass is interesting as it can grow 50 years without need of soil tillage.
By SITES, Röbäcksdalen initiates a new facility for field trials to compare future strategies for a resource-conserving agriculture. The facility is open for researchers interested in studies on sustainability and effects of climate change in future cropping systems.

On the fields of the station several short and long terms (up to 50 years) trials are running. Röbäcksdalen is a facility for official "kind" trials where grass, grains and potatoes are tested in several different experiments with varying fertilization levels, soil tillage, and crop rotations. Researchers also use this and other fields for specific experiments which they "run" on their own or let the field research station manage. Researchers are provided with the opportunity to access data and historical archived physical samples from crops and soil originating from the long term field trials.

One of the long term field trials address monocultures and investigates unilateral cropping on yield, quality and "health" for the most important crops in northern Sweden. The design is set up so that crops are either grown in the same plots every year or in plot rotations. This long term study also address the crop rotations influence on the soil, in addition, trials with reduced tillage is applied as well as humus balance and liming.