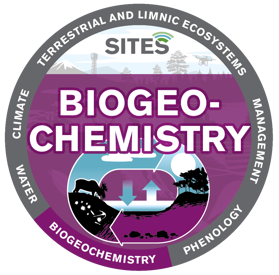 The SITES infrastructure offers opportunities to study many different biogeochemical processes and interactions on small and large scales in different ecosystems. Within SITES, measurements are carried out at scales ranging from micro to macro, such as growth of microorganisms and exchange of gases with the atmosphere at local and landscape level.

The SITES Water infrastructure focuses on parts of the biogeochemical cycle in watercourses and lakes at seven of the SITES stations.

Read more about what the Abisko, Asa, Erken, Grimsö, Lönnstorp, Röbäcksdalen, Skogaryd, Svartberget and Tarfala stations can offer you as researcher.
All the measurement programs at Abisko station can, individually or combined, be used to study biogeochemical processes in a mountain environment, such as precipitation, air and atmospheric conditions, geomagnetism, groundwater, watercourses and lakes. Internal and interacting processes in landscape elements with alpine heaths, mires, mountain birch forest can be studied in combination with biological parameters concerning animal and plant life.
In part in the Aneboda research area, approximately 19 ha, environmental measurement programs are carried out of the effects of long-range air pollution. The focus is on ecosystem studies at catchment area level, determining water balances, chemical substance budgets and effects on biota, particularly vegetation, and studies of biogeochemical soil processes.

The Aneboda research area, a total of 170 ha, is very suitable for experimental studies of conditions, processes and dynamics in the different developmental phases of mire and natural forest, and as a reference to conventional and intensively managed forest in, for example, Asa's research area and high-yield production forest.

In the Asa research area and high-yield production forest, environmental measurement programs are also carried out of stream water chemistry in a comprehensive control programme focusing on water quality and element transport. Water samples are taken every month in streams draining 13 catchment areas. The water samples are analysed with a comprehensive water chemistry program. Flows are recorded continually in every stream to very accurately calculate leaching from the soil into surface water.

Feresjön lake in Asa growth park is part of the SITES Water infrastructure, and is the site of intensive biogeochemical studies.
For over 30 years, Erken has been running a comprehensive environmental measurement programme, including manual measurements and high-frequency automatic measurements in lakes and watercourses. The measurements includes, for example, measurement of physical and chemical parameters and phytoplankton. Measurement series are available for parameters such as water temperature, biomass, inflows, CDOM, turbidity, wind, conductivity, pH, dissolved acid, total quantity of algae, zooplankton, phytoplankton, fertiliser loss, alkalinity, sight depth, filtered and unfiltered Abs, P, N, Si and TOC.

Research at the Erken laboratory focuses on, for example, long-term measurements of the water quality and species population dynamics in lakes. The Erken laboratory includes an analytical laboratory that specialises in quality-certified analyses for water chemistry, sediment chemistry, and phyto- and zooplankton analyses.
Grimsö's landscape types offer great opportunities to study biogeochemical processes. With the wildlife ecology measurements, habitat inventory, and results from the weather station, new experiments can be set up or issues investigated. Grimsö currently has no fixed installations to measure biogeochemical processes.
Lönnstorp offers great opportunities for studying biogeochemical processes in agroecosystems. In 2015-2016, the work was intensified with the establishment of a new field facility at Lönnstorp, SAFE (SITES Agroecological Field Experiments), for research into future cultivation systems. The facility can be used for many types of studies in, for example, plant and soil ecology, biogeochemistry and agroecology. There will also be opportunities to place smaller experiments at the facility. There is a corresponding facility at Röbäcksdalen research station in Umeå.

SAFE includes soil samples, temperature and moisture sensors installed in the ground, and four different cultivation systems, all established with a focus on diversification of agroecosystems.
Röbäcksdalen station offers opportunities for biogeochemistry research in agroecosystems, and measurement series are available for precipitation, soil and nutrient conditions.

Results are available from two long-term fertility experiments started in 1969, and researchers have access to the data. The original aim was to compare applications of varying quantities of nitrogen (N), phosphorus (P) and potassium (K). The seven-year rotation cycle involves barley, ley, green fodder crops and potatoes. Stable manure is applied twice during the cycle. However, since 2004, the original research plan has been changed somewhat. The highest fertilisation level has been replaced with a 0-level, where neither P nor K is applied together with the stable manure. The fertilisation stage with K has been replaced with half or no mineral K application. Despite this change, the total number of treatments in the rotation cycle remains unchanged.

Biogeochemical processes can also be studied using results from the weather stations, results from surface and drainage run off from the enclosed area, results from the measurements that takes place within the framework of SITES Water in the Degernäsbäcken stream, harvest yields from different fields, and other plant and animal studies.
All six areas at Skogaryd offer opportunities to study underlying regulation of biogeochemical processes. Erssjön represents a typical lake in a (hemi-) boreal forest landscape. Greenhouse gases (CO2, H2O and CH4) are measured with Eddy Covariance (EC) equipment, and water chemistry and carbon sedimentation are measured , with the aim of studying the importance of inland water for flows and greenhouse gas balances.

Lake Följesjön is in the Skogaryd station area, and is a mixture of lake and swamp, with very high methane emissions. At both lakes, Erssjön and Följesjön, there is electricity, fibre-optic Internet access, paths, boat, raft, tower and bridges.

At the Mycklemossen mire is a flux tower, chambers and frames for gas measurements and soil temperature, and duckboards for access to the mire. There is also forest on mineral and organic soil, with equipment installed such as flux tower, groundwater tubes, temperature and moisture meters. The clear-cut area has a weather station and equipment linked to the SITES Spectral infrastructure.
Svartberget comprises five areas that, individually and together, can offer researchers the opportunity to study various aspects of the forest landscape and how the different ecosystems relate to and react to, for example, climate change, fertilisation, and different silviculture methods.

The Krycklan river flows through the Svartberget forests, a tributary of the Vindelälven river, and this is one of the most measured drainage areas in the world. Krycklan catchment area is 6780 hectares, flowing through a mosaic of wetlands and lakes. Krycklan is a unique field research area for studying associations between hydrological, biogeochemical and ecological processes in one and the same ecosystem. Hydrology, climate, water and soil water chemistry have been measured here for over 30 years.

Research in the Krycklan catchment area integrates soil and aquatic systems, and focuses mainly on small streams, their different biogeochemical composition, and their resistance to change. Because of the size of the catchment area, modelling can be done on scales ranging from the smallest streams to rivers at landscape level. Researchers can use data from Krycklan and place new experiments here. Several fixed installations provide easier access to Lake Stortjärn in the Krycklan catchment. Studies can be made of the entire ecosystem, and interactions with surrounding drainage areas.

Degerö stormyr is a mire with the longest series of greenhouse gas flows in mire ecosystems in the Northern Hemisphere. There are frames and chambers for gas measurements and groundwater tubes are placed in various experiments where fertiliser is applied. The stream flowing out of the mire is also measured in terms of flow and chemical parameters.

Rosinedal, Åheden and Flakaliden are forest areas where studies examine various issues at higher resolution. All areas are fertilised and different silvicultural methods have been applied, and the ecosystem perspective, trees, soils, plants and exchanges with the atmosphere can be studied.
At Tarfala, biogeochemical processes can be studied in snow, ice, water and soil. Processes can be studied along a gradient from new exposed soil where the glaciers are melting to the mountain birch ecosystem along the tree line. Data from the measurement programs in Tarfala can be used to study processes that are linked to algae communities living on glaciers and snow, soil and plant interactions in mountain environments, permafrost, and their integration between soil and water.