On April 24-25, 2023, fourteen researchers, PhD and Master students gathered at Lake Bolmen to start up the international research collaboration within the EU network AQUACOSM-plus and the national infrastructure SITES AquaNet. The study will use mesocosms to investigate how lake ecosystems are affected by browning and eutrophication. The research project is taking place simultaneously at three locations in Sweden, and Bolmen Research Station was the first to go.

The group included Silke Langenheder – SITES Erken Laboratory and AquaNet coordinator, Ingrid Sassenhage – SITES Erken Laboratory, Antonia Liess – Halmstad University, Johanna Sjöstedt – Lund University, Nusret Karakaya - Bolu Abant Izzet Baysal University, Anna Lupon– CEAB-CSIC, Susana Bernal – CEAB-CSIC, Inge Elfferich – Cardiff University, Antonija Kulaš – University of Zagreb, Kadir Yıldız – Bolu Abant Izzet Baysal University, Kevin Jones – Lund University, Eline van Dam – Lund University, Franka Hemme – Lund University and Juha Rankinen – Bolmen Research Station. At a later date Eugènia Martí – CEAB-CSIC and Nuria Carabal de Antonio - Universidad de Valencia will join the Bolmen team.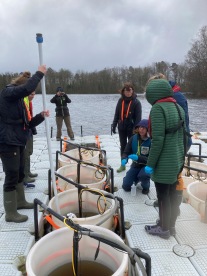 - "This is a very exciting and important research project where we collect data from several locations in Sweden to try to figure out how the transport of nutrients and organic matter connected to different run-off scenarios may affect lake ecosystems and their water quality. Bolmen Research Station is first out and later in the the week we start the experiment in Skogaryd outside Gothenburg and the following week in lake Erken outside Uppsala", explains Silke Langenheder, Professor in Limnology at Uppsala University and coordinator for SITES AquaNet in Sweden.

The researchers will use the mesocosm infrastrucutre to study how greenhouse gases, bacteria, algae and zooplankton in the lake are affected by increased brownification and eutrophication. The mesocosms (large floating containers) are placed in a floating platform on the lake and filled with lake water, which means that they have the naturally occurring ecosystem and the water chemistry that exists today.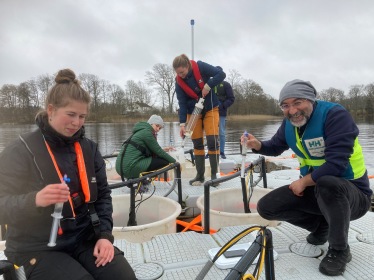 - "Climate change, variations in precipitation and how we use the land around the lake affect both the quantity and quality of the lake water, and by studying various factors that affect our lakes, we can prepare for the challenges of the future", says Juha Rankinen, Station Manager at Bolmen Research Station.

Lake Bolmen is the most important source for drinking water production in south-western Sweden and both the quantity and the quality of water are topics that are becoming more and more relevant, both nationally and internationally. In the last two IPCC reports, water is highlighted as the central part of the climate change and mitigation measures.

- "The experiment will last for six weeks and we will have five PhD/Master students placed at Bolmen to be able to take samples and analyze them daily. All the data we collect is then reported to SITES AquaNet and thus gives researchers throughout the world the opportunity to work with it. This collaboration between the research stations provides incredible advantages and opportunities for researchers and universities to take big steps forward", continues Juha.
Linda Groot Nibbelink has recently started as Field technician at SITES Lönnstorp research station! Welcome to the SITES Community, Linda!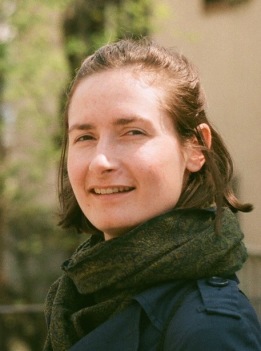 To get to know Linda, we asked for her to introduce herself to the SITES Community:

Hi! My name is Linda Groot Nibbelink. I grew up in Goes, a rural town in the Rhine delta in the Netherlands. I studied International Land and Water Management at Wageningen University & Research and Organic Agriculture & Agroecology at BOKU in Vienna, Austria and at University of Hohenheim, Germany.

Besides theoretical knowledge of agriculture, I gained practical experience by working and volunteering at organic, biodynamic and conventional fruit orchards, horticultural farms and dairy farms in Europe. Last year I did a full season internship at a plant breeding institute in Switzerland, where I worked with developing new pea varieties. After several years of moving around the continent, I decided to settle down with my partner in Lund.
At SITES Lönnstorp Research Station, my role will be to perform measurements and assessments in the experiments at the station. I will also be involved with data handling, management of experiments and taking care of samples that are collected.

What I love about working at Lönnstorp is that it allows me to combine working with my hands and with my mind. At the same time, it gives me the opportunity to learn the specifics of agriculture in Sweden and gain practical experience with field experiments.
The SITES 2023 Calendar theme is "Data in Focus". The openly available data produced within SITES and stored on the SITES Data Portal is the "golden thread" of the infrastructure, allowing users access to ecosystem data that covers diverse habitats and climate zones across geographical gradients in Sweden. Each month follow along as we highlight a unique SITES dataset.
Wildlife monitoring is an important part of the activities at Grimsö Wildlife Research Station. A large part of the monitoring was initiated during the 1970's, but new data series have been added over time as methods have developed. The continuous surveys focus on topics such as population dynamics, reproduction, life history traits and body measurements and include monitoring of, e.g., moose, roe deer, red fox, voles and starlings. For example, red fox (Vulpes vulpes) reproduction has been monitored since 1973 by identifying fox litters. Around 200 fox dens are checked annually within the Grimsö Wildlife Research Area and the dens with observed reproduction are summed to mirror the total number of fox litters for that year. The variation in the local fox abundance is related to the vole population cycle and is a key factor for the dynamics of several small mammal populations across Scandinavia.

Link to Data: https://meta.fieldsites.se/objects/09RC_nAwv6h0wauAY8dwFHR_
The graph shows the number of fox litters at Grimsö between 1973-2021, with variations over time mainly related to vole cycles. The extra low numbers in 1985-1986 were due to an outbreak of scabies (sarcoptic mange) that regulated fox populations more or less throughout Sweden during the late 1980's and into the 1990's.
Over the past few months, the SITES Water Thematic Program and the associated openly available data, has been featured in several events.

In December, Marcus Wallin (SITES Water Thematic Program Lead) presented a poster about SITES Water at the Hydrology Days 2022, hosted by Svenska hydrologiska rådet SHR. The theme of the event was "Freshwater: from source to sea", covering the broad spectrum of water from bio(eco)logical, physical and chemical, and society. The meeting took place in person this year at SLU Uppsala, after two years of being online, and offered a great opportunity for SITES Water to connect to academic researchers beyond SLU, including Uppsala University, Stockholm University, KTH, as well as to institutes and companies, including Swedish Environmental Research Institute, Tyréns AB and SMHI.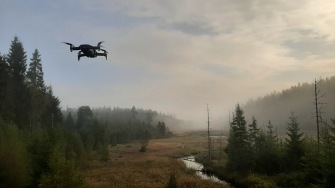 On the 2nd of March, an all day seminar titled, Hur beräknar vi Sveriges växthusgasbalans i skog, mark och vatten? - Nuvarande klimatrapportering och framtida möjligheter. (Translating to, How do we calculate Sweden's greenhouse gas balance in forest, land and water – current climate reporting and future opportunities) brought together researchers and different stakeholders, e.g. governmental authorities, municipalities, private companies with interest in Sweden's greenhouse gas balance. The focus was on the Land use, Land use change and Forestry sector, and how the national greenhouse gas balance is reported. The seminar also included presentations concerning greenhouse gas fluxes that are not covered in the national reporting and development of new measurement and modelling methods. Several SITES researchers as well as SITES collaborator, ICOS, presented during the seminar. It was obvious after the day that data generated within SITES are essential for improving our understanding of Sweden's greenhouse gas balance.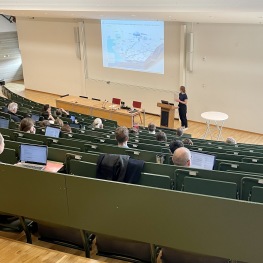 Later in March (the 20th and 22nd), the third internal water seminar series at SLU took place. SLU has a strong and broad expertise on water, but is spread out across different faculties, departments and campuses and thus, the water seminar series is an opportunity to connect water research at SLU as a whole. This year's program focused on early career scholars, where Blaize Denfeld (SITES Deputy Director) presented SITES Water in the context of her PhD and PostDoc research at multiple SITES Stations including Erken, Svartberget, Skogaryd and Röbäcksdalen.

Major efforts have been made lately among SITES stations and by the Secretariat to upload data generated within the SITES Water program to the SITES Data Portal. These data include meteorology, water chemistry from lakes and streams, lake temperature and oxygen profiles, lake water level and stream discharge. The SITES Water data is now openly available on the SITES Data Portal and more will be uploaded soon.
A handful of the external research projects at Grimsö focus on large scale evaluations of practical techniques to manage wildlife-traffic problems. These projects are led by Grimsö but conducted in collaboration with several national and international stakeholders, including, e.g. the Swedish Transport Administration (Trafikverket), Interreg Sweden-Norway and the Norwegian BaneNOR. Many issues concerning wildlife and traffic are complex but with growing importance in the last decades, both due to denser populations of large mammals and continued increase in traffic volumes. More information about the projects and innovative solutions to reduce wildlife collisions in traffic can be found at Om projektet – Vilt och Trafik.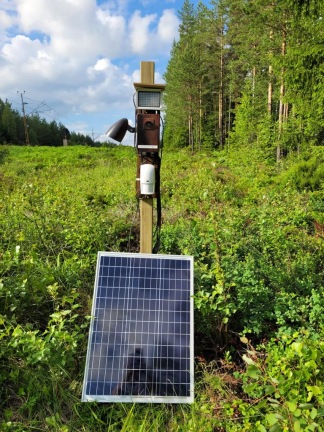 One of the current projects, "Viltvarning vid järnväg" (translating to "Wildlife warning near railroads"), focuses on identifying techniques to scare animals away from railroad areas using sounds. This is being explored as an alternative to exclusion fences and wildlife passages, as it has the potential to be a more flexible and less expensive solution. One design being tested is called a MASS unit (Movement Activated Scaring System) and uses infrared (IR) sensors to detect movements, which in turn activate speakers that send out various sounds (horns, voices etc.) at a high volume (>70 dB) to scare away animals.
This type of camera monitoring results in massive amounts of pictures, by far exceeding what can be handled and analyzed manually. Several automatic solutions, e.g. software & artificial intelligence (AI), for this are nowadays under test, where one tricky part is to obtain reliable and accurate identifications of species in the pictures. Depending on the position of the animal this may be more or less problematic, and in some situations impossible to achieve proper identifications. A separate part of the mentioned projects is to test software based on a machine learning processes using several different pictures of known animals, that vary in position, distance from the camera, etc. The raw data from the picture analysis shows a probability measure for which species are shown. At present, a cut off-level is often applied for an acceptable level of identification (e.g. 90%, but varies due to study aims). After removal of potential pictures showing humans, the raw data gets stored on a common platform between the Swedish Transport Administration and the project, where then AI is used to classify animals to species.

The collaborative work in this project among authorities, consultants and researchers, combined with the scientific evaluation of the methods tested, is a good example of how SITES stations can be utilized broadly.