Start-up of the EU AquaCosm-plus and SITES AquaNet experiment at Bolmen Research Station
 
On April 24-25, 2023, fourteen researchers, PhD and Master students gathered at Lake Bolmen to start up the international research collaboration within the EU network AQUACOSM-plus and the national infrastructure SITES AquaNet. The study will use mesocosms to investigate how lake ecosystems are affected by browning and eutrophication. The research project is taking place simultaneously at three locations in Sweden, and Bolmen Research Station was the first to go.

The group included Silke Langenheder – SITES Erken Laboratory and AquaNet coordinator, Ingrid Sassenhage – SITES Erken Laboratory, Antonia Liess – Halmstad University, Johanna Sjöstedt – Lund University, Nusret Karakaya - Bolu Abant Izzet Baysal University, Anna Lupon– CEAB-CSIC, Susana Bernal – CEAB-CSIC, Inge Elfferich – Cardiff University, Antonija Kulaš – University of Zagreb, Kadir Yıldız – Bolu Abant Izzet Baysal University, Kevin Jones – Lund University, Eline van Dam – Lund University, Franka Hemme – Lund University and Juha Rankinen – Bolmen Research Station. At a later date Eugènia Martí – CEAB-CSIC and Nuria Carabal de Antonio - Universidad de Valencia will join the Bolmen team.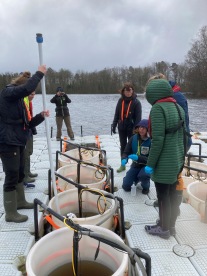 - "This is a very exciting and important research project where we collect data from several locations in Sweden to try to figure out how the transport of nutrients and organic matter connected to different run-off scenarios may affect lake ecosystems and their water quality. Bolmen Research Station is first out and later in the the week we start the experiment in Skogaryd outside Gothenburg and the following week in lake Erken outside Uppsala", explains Silke Langenheder, Professor in Limnology at Uppsala University and coordinator for SITES AquaNet in Sweden.

The researchers will use the mesocosm infrastrucutre to study how greenhouse gases, bacteria, algae and zooplankton in the lake are affected by increased brownification and eutrophication. The mesocosms (large floating containers) are placed in a floating platform on the lake and filled with lake water, which means that they have the naturally occurring ecosystem and the water chemistry that exists today.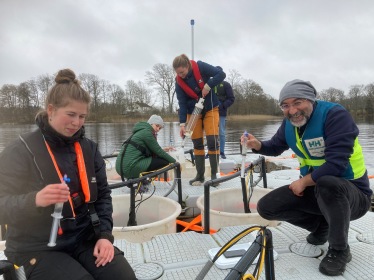 - "Climate change, variations in precipitation and how we use the land around the lake affect both the quantity and quality of the lake water, and by studying various factors that affect our lakes, we can prepare for the challenges of the future", says Juha Rankinen, Station Manager at Bolmen Research Station.

Lake Bolmen is the most important source for drinking water production in south-western Sweden and both the quantity and the quality of water are topics that are becoming more and more relevant, both nationally and internationally. In the last two IPCC reports, water is highlighted as the central part of the climate change and mitigation measures.

- "The experiment will last for six weeks and we will have five PhD/Master students placed at Bolmen to be able to take samples and analyze them daily. All the data we collect is then reported to SITES AquaNet and thus gives researchers throughout the world the opportunity to work with it. This collaboration between the research stations provides incredible advantages and opportunities for researchers and universities to take big steps forward", continues Juha.