Phenology of migrating birds monitored at Grimsö Wildlife Research Station
24/11/2022
« Back
Ornithology has a long tradition in biological research, and there are numerous data sets on various subtopics available both via scientific publications and conservation organizations. The phenology of migrating species (e.g. arrival dates to breeding grounds) has drawn attention in the last few decades, as it describes and helps understand effects of increasing temperatures on bird migration.

Since 1985 such corresponding data have been collected at Grimsö Wildlife Research Station. The dataset at Grimsö comprises of date of the first observation within the research area each year for ca. 80 migratory species, and shows several more or less pronounced changes over the 37 years of data collected.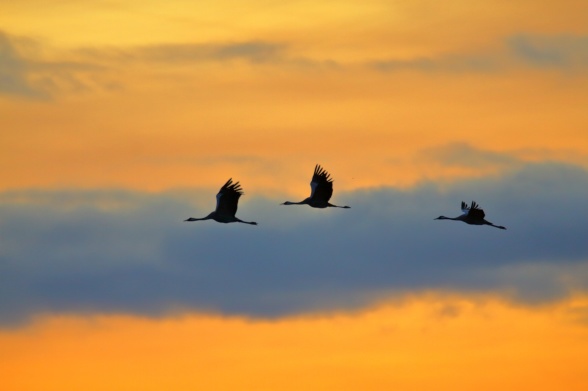 As expected, and seen in many studies, the long-distance migrants, that spend winter in, e.g. Africa, show very little variation in spring arrival dates between years (as seen in the graph below). In a few cases the date differs >1 week for such species, which is due to other factors than a sudden temperature change. Instead more or less the same dates/week are noted for them throughout the period. This behavior is explained in that the best timing of such long flights cannot be based on the daily weather in the wintering area, but is instead initiated mainly by day length, which in turn relates to a suitable arrival time at the breeding ground.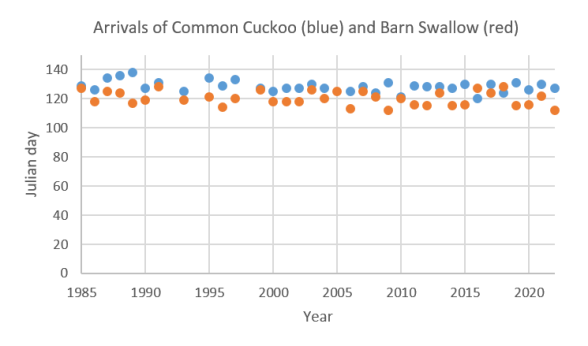 On the other hand, several of the migratory birds in Sweden that move only short distances, i.e. southward before the winter, move gradually in response to the local weather (temperature, food availability etc) and show significantly earlier spring arrivals in recent decades compared to the first years of the survey. The mean arrival dates of, for example, the Mallard and the Common black bird were 12 and 19 days earlier, respectively, in the period 2005-2022 and 1985-2004. Moreover, some of the short-distance migratory species nowadays stay in southern and middle Sweden throughout the winter.
Here once again this dataset highlights the importance of long term monitoring. If this survey had started for example 10 years ago, we would not yet have recognized stark changes of bird arrivals in the region/data.