Intercropping of faba beans and peas: A new three-year project at SITES Lönnstorp 
07/12/2021
« Back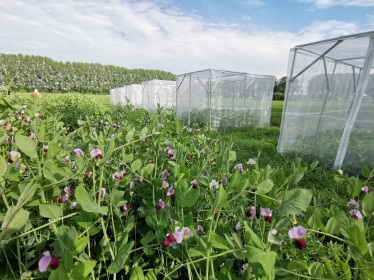 A project focusing on intercropping of faba beans and peas has been initiated at SITES Lönnstorp Research Station. This year was the first of the three-year project period.

The aim of the project is to study and optimize the intercropping of faba beans and peas. The trials are conducted by Dylan Wallman as parts of his licentiate education at the department of Biosystems and Technology at SLU Alnarp. The goal is to investigate whether intercropping of peas and faba beans can provide higher and more stable yields in organic production compared to individual cropping of each. In the project, both seed and biomass yield are measured, and other agronomical aspects relevant for organic farming and intercropping are also assessed.

This year was agriculturally a relatively good year, although there could have been more precipitation, which would have especially benefited the faba beans. The results from this first year will provide clues on how to further develop the trial design for the two upcoming years. Intercropping of faba beans and peas has historically been performed in Sweden, but is nowadays very rare, both in production and research. By observing the two crops growing together a lot can be learned; on a weekly basis there are surprises, and what you think is the best combination of varieties in the early summer can very much be the worst by the end of the season.

This project studies both modern and old varieties of faba beans and peas. Historically, since peas often were intercropped with either cereals or faba beans, the older varieties are more adapted to grow with a companion crop than by themselves. Many of the older varieties also have culinary properties that can contribute to increasing the demand for locally produced legumes. At the same time, larger local harvests of protein-rich plants allow for a reduction in imports of soya beans for animal feed. Therefore, the project is also a step towards shortening the distance between the production and consumption of food and facilitating the transition to more plant-based protein in human diets.

See more about the project in the research video (in Swedish with English subtitles): Intercropping of fava bean and pea in organic farming systems

The trials are conducted at the organic experimental fields at SITES Lönnstorp. Supervisors are Georg Carlsson (SLU), Åsa Grimberg (SLU), and Matti Wiking Leino (SU). The project is funded by Ekhagastiftelsen.