Latest addition to the "Sculpture park" in Abisko
30/08/2021
« Back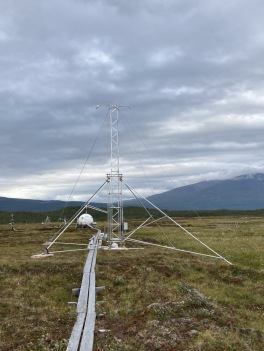 The Stordalen nature reserve is one of the major study areas of the Abisko Scientific Research Station (ANS). This summer there have been some new installations there, as Magnus Augner, Abisko Station Manager, tells.
"To the uninitiated, coming to the Stordalen mire to pick cloudberries or do some birdwatching, the area probably causes some raised eyebrows. Instead of a tranquil, wide mire landscape, it may seem more like a "Sculpture park" with quite strange installations.
The most recent additions to the installations are wooden structures that reduce precipitation, simulating drought conditions, and the new
SITES-Spectral
mast. The old Spectral mast fell over when corrosion made one of the guy wires break. The new construction has four aluminium legs for stability, with some extra guy wires attached to the top of the mast proper. The mast itself is easily lowered, swung around a fulcrum half-way up – so there is no need to climb it.
Right now, we are in the process of putting up signs, both for the area as such, and for each installation. To make this easier for the researchers, we provide them with poles with mounted wooden plates, and templates for the signs."