Wave model to investigate brownification and hydrodynamics at Lake Bolmen
 
20/05/2021
« Back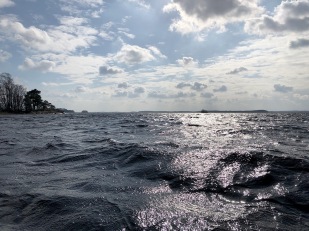 In a new project, the wave climate at Lake Bolmen will be investigated to gain new insights about the hydrodynamics of the lake and the waves' effect on water quality. Recent measurements of water pressure will be used to help to calibrate and validate wave models, which will be a helpful asset for analysis of current and future conditions.
Lake Bolmen
is Skåne's most important drinking water resource. The lake's ecology and chemical status has changed during the last decades and some of these changes could negatively affect water quality. One of the most noticeable changes is the effect of brownification, resulting in yellow to brown colored water due to the increase of humic substances and iron leachate from the catchment. One aim of the
Bolmen Research station
is to create knowledge that helps to sustain Bolmen as reliable water resource, ecosystem and place for recreation. Therefore, further insight into changes to water quality is important.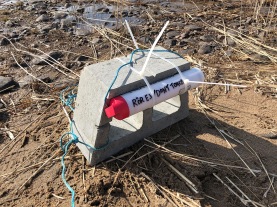 One factor influencing water quality is the hydrodynamics and the wave climate (see fact box below) of the lake. This is because waves mainly determine transport and mixing conditions through the whole lake and within the water column. Due to Lake Bolmen's relatively large size (183 km2), waves induced by wind are likely to occur, but specific knowledge about them is limited. With the application of a wave model, that later will be combined with a general hydrodynamic model, a better understanding of Lake Bolmen's hydrodynamics will be gained.

Recently conducted measurements of water pressure will help to calibrate and validate this model. Even though measurements have only been recorded on a single side of the lake, the contribution is rather large as this is the first real measurement of this kind. In addition to the simulation of the present wave climate at Lake Bolmen, analysis of future conditions due to changes in climate and ice cover will be conducted.

In the future the wave measurements will be extended and additional water quality measurements at different locations within the lake will be conducted. This will allow a more detailed combined analysis of water quality changes and interactions with hydrodynamics and the wave climate present at Lake Bolmen.

Text: Clemens Klante, Sweden Water Research and Lund University.
Wave climate
Wave climate is defined as the distribution of wave height, period, and direction averaged over a period of time for a particular location.

Source: Herbich J.B., Walters T. (1987) Wave climate. In: Climatology. Encyclopedia of Earth Science. Springer, Boston, MA. https://doi.org/10.1007/0-387-30749-4_195