SITES sediment mapping continues onward to Lake Almbergasjön
16/04/2021
« Back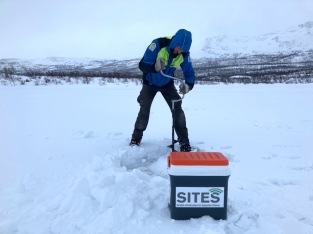 SITES is mapping lake sediments for the lakes included in the thematic programmes SITES Water and SITES AquaNet, to enable a better understanding of biogeochemical processes within the lakes. Sampling has now started at Lake Almbergasjön at Abisko Scientific Research Station.
Since the lake is still ice-covered,
Abisko
research engineers Niklas Rakos and Erik Lundin took the opportunity to collect a deep sediment core. Using a Russian corer, nearly 3 meters of sediment from Almbergasjön was collected.
The sediment core was sliced and sediment subsamples stored for later analysis (e.g. water content, C, N, grain size). The sediment mapping campaign on Lake Almbergasjön will continue later in 2021 with a sub-bottom profile survey and gravity core collection across the lake.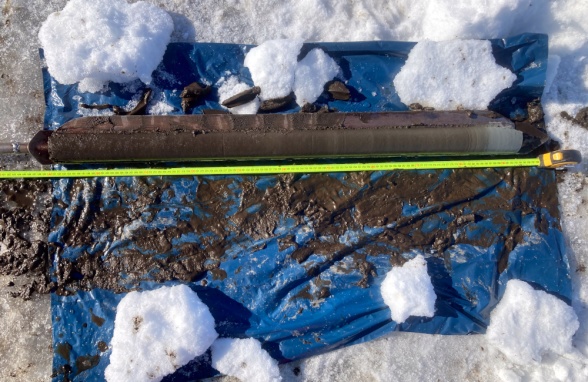 SITES sediment mapping
Sediment sub-bottom profiling has already been conducted and long and short sediment cores have been collected at Lake Erssjön (
Skogaryd Research Catchment
) and at Lake Feresjön (
Asa Research Station
). Sediment cores have previously been collected for Lake Tarfala and a high-resolution bathymetry map exists (
Kirchner et al. 2019
). A sediment sub-bottom profiling survey was conducted for Lake Erken in 2017.
Read more about the sediment sampling in news articles on SITES web and in our newsletter: