Radar tower to be installed at Svartberget Research Station
18/12/2020
« Back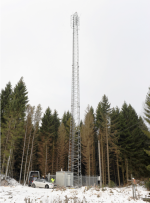 The overall aim of this project is to develop a new observation method for reliably quantifying the forest-atmosphere water exchange over a wide range of spatial and temporal scales.

This project is a collaboration between the department of Forest Resources and Management, SLU, Umeå, Department of Space, Earth and Environment, Chalmers University and department of Forest Ecology and Management and based on the co-location with ICOS and the Krycklan Catchment studies (at Svartberget Research Station).

The work in this project will bridge the gap between the urgent need for spatially-distributed, long-term evapotranspiration (ET) observations and modern radar-based sensing capabilities that can resolve the spatial inhomogeneities and temporal variations that ET exhibits in forested regions.

The data generated with the new measurement method will help reveal some of the currently-hidden mechanisms by which ET in forested regions contributes to the hydrological and weather systems. The long-term, high-resolution ET observations extended to the global scale will aid in the development and verification of regional and global climate models, hydrological models and dynamic vegetation models.

Project contact person: Johan Fransson (johan.fransson@slu.se), Department of Forest Resource Management, SLU, Umeå.

Text: Mats Nilsson, SLU. This new article was previously published in the newsletter Krycklan news.