Blaize Denfeld - SITES new deputy director
2020-11-25
« Tillbaka
Blaize Denfeld started as SITES Deputy Director at the beginning of November. She is an earth system scientist specializing in freshwater biogeochemistry. Blaize brings extensive coordination experience from her work with international science organizations, including the Global Lake Ecological Observatory Network (GLEON), the Earth Science Division of NASA and the U.S. Global Change Research Program.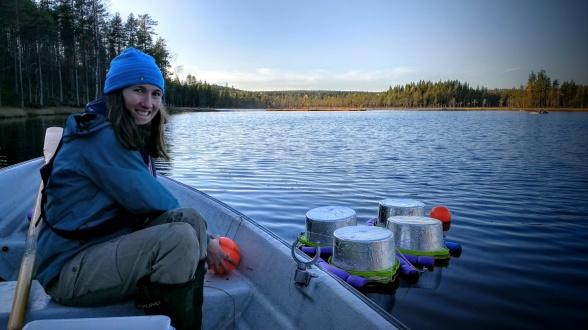 In welcoming Blaize to the SITES community, we've asked her a few questions about her background and future involvement with SITES.

When did you first become interested in ecosystem science?

– From a young age I loved being out in nature, spending time as a child playing by the pond in our backyard. But it wasn't until my time at Clark University that I became interested in scientific research. My first exposure to field sampling was in Northeast Siberia, where I spent two summers sampling the Kolyma River Watershed as part of the Polaris Project. It was from this experience that I knew I wanted to continue researching high-latitude environments.

What is your research background?

– I am an earth system scientist with a specialization in Arctic and boreal freshwater biogeochemistry. I completed a PhD at Uppsala University, Department of Limnology, with research focused on greenhouse emissions from ice-covered lakes. During my PhD, I enjoyed researching Swedish lakes so much, I decided to continue as a Postdoc at Umeå University and SLU Umeå, focusing more broadly on spatial and temporal carbon cycling of inland waters.

What is your previous involvement in SITES?

– During both my PhD and Postdoc, I had the opportunity to utilize SITES infrastructure and data. I spent many hours on ice-covered lake Erken, capturing CH4 bubbles at the ice-water interface. Thanks to the SITES infrastructure and station staff, I was able to organize a multi-station field campaign, at Erken, Skogyard and Svartberget, continuously monitoring CO2 dynamics below ice. My postdoc in Umeå began around the same time Lake Stortjärn at Svartberget began the routine SITES Water monitoring lake sampling. Now coming back to SITES a few years later, it has been great to see the progress made and I look forward to engaging across all research stations and thematic programs!

How do you see your previous experiences fitting into your role as Deputy Director of SITES?

– My research background and interest align well with SITES ecosystem approach and is relevant to the SITES thematic programs. Though, it is my experience in a coordinating role of international science organizations that have provided a foundation for organizational and communicational skills essential to this position. It is through these experiences that I have developed a passion for understanding and facilitating scientific collaborations, and as such, I am glad to continue to pursue this passion as Deputy Director of SITES.

What are you most excited about as Deputy Director of SITES?

– I am most excited about working with the SITES community! In my first few weeks on the job, I have enjoyed reconnecting with previous colleagues and getting to meet others for the first time. Once travel is safe again, I am eager to visit the SITES stations to meet with the staff and see all the exciting research being conducted there. I am impressed by SITES function in coordinating long-term monitoring data across Sweden and providing researchers with a unique research infrastructure. As we begin to think about the next stage of SITES, I am encouraged by the great foundation SITES has developed and look forward to working with the SITES community to continue to maintain and develop SITES.