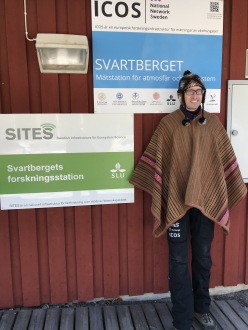 Background:
I'm originally from the UK, where I completed a PhD in Atmospheric Science at the University of Leeds. I've worked as a postdoc in Ireland, London, Cambridge and Spain, on projects involving measurements of greenhouse gases, air quality and halogens. I've spent the last two-and-a-half years living in Madrid with my girlfriend who is Peruvian (hence the photo) learning Spanish and enjoying the food and drink!

Relation to Svartberget Forest Research Station:
I previously worked here as a Research Engineer during the installation of the ICOS infrastructure in 2012-2013. I returned in 2014 and 2018 to help out during the summer field season, so I am well-known to the staff and I am familiar with the wide variety of work that goes on with regards forest ecosystems. Unable to find further funding or other opportunities in Spain, I decided to contact my colleagues at Svartberget to see if they needed help or had any jobs. They needed a Research Engineer, so I applied and I was lucky enough to get the job.

Vindeln/Svartberget:
I enjoy the clean air, forests, lakes and rivers in the region around Vindeln. Swedish people value their free-time and are friendly and helpful, and I like the idea of 'fika' at work. I'm looking forward to finally learning Swedish properly and welcoming my girlfriend, friends and family to explore the region.

What is your role:
I will mainly be working on supporting the ongoing measurements as part of ICOS, and working with my colleagues on maintaining and extending the SITES measurement programmes. I am interested in developing new measurement technologies at the station, and using data mining techniques to better understand the wealth of data we have, and the story it can tell.