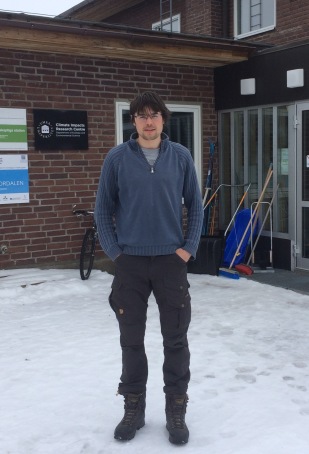 Tell us about your background?
I´m from Belgium where I obtained a master's degree in ecology and electromechanical engineering. After my studies I worked as an Automation Engineer.

But recently, my girlfriend received a Postdoc position at the Abisko field station. We both like northern environments so we decided to take a leap northwards. I applied for the Research Engineer position and was selected. This position offers an interesting combination of fieldwork and computer analysis. I think this is where my background in data handling and automation will be useful.

What is your relation to terrestrial/limnic field research?
I got a taste of biology through my family from an early age. Later, during the course of my degree in ecology, I had several opportunities to connect with researchers within both terrestrial and limnic fields. In my master degree I spent one year in Sweden (Erasmus). During my Erasmus I took a course in limnology and I followed the Arctic Geoecology course in Abisko. I also followed a field course in the alps about plant inventarisation and assisted PhD students in Finmark and Iceland.

Tell me about your first impresion of Abisko?
Abisko is a magicical place with the lake, the mountains and the northern lights. But it is also extreme in many ways such as the weather, the nature, the isolation and the rate of climate change. The station is fairly big and has a lot to offer to all kind of researchers. It is a very nice place to work and the wilderness starts at the doorstep.

What are your expectations for your assignment as Research Engineer at the most northern SITES location?
My main tasks will be to take part in and work with the measurement's programmes for SITES (SITES water and SITES spectral) and ICOS. I hope to learn more about measuring systems and the data they provide around Abisko and Sweden. I also look forward to learn more about the other SITES field stations and the collaboration.