The European H2020 project DiverIMPACTS builds on 10 field experiments across Europe to quantify impacts of crop diversification. A new long-term experiment started in 2018 on the SITES Lönnstorp research station at SLU in Alnarp, Southern Sweden, with the objective to study the benefits and challenges of introducing multiple cropping in organic farming.

Scanian soils generally have a high fertility but some organic cropping systems depend heavily on external inputs, especially nitrogen. This may be unsustainable in the long term since the prices of organic manures and fertilizers are increasingly steeply.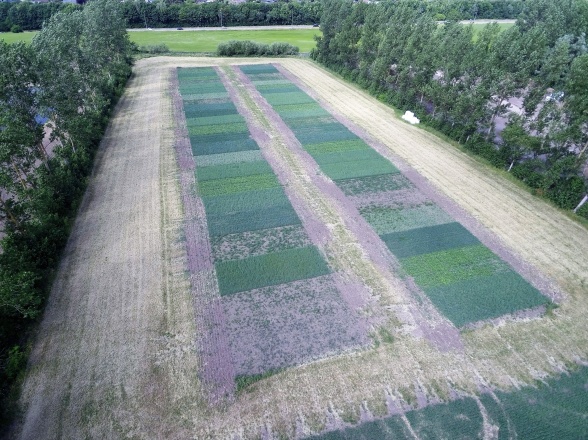 Picture above: An overview of the DiverIMPACTS-experiment at SITES Lönnstorp. Photo: Ryan Davidson.Aerial view of the DiverIMPACTS field experiment at SITES Lönnstorp. Photo: Ryan Davidson

The reference used here is a six-year crop rotation with clover and spring pea as nitrogen suppliers, as well as nitrogen-intensive crops, e.g. winter oilseed rape. With growers and advisors, we designed an alternative crop rotation based on the same six main crops but including multi-species cover crops and intercrops. This rotation introduces the innovation of sowing a frost-sensitive legume (faba bean) together with oilseed rape, and includes high value cash crops (lupine and malting barley) in intercrops.

The experiment will also give information about whether intercropping reduces the benefits of break crops in rotations, for instance, since the diversified rotation only has one year of legume-free break, it will provide information about the risk of increased legume disease incidence when increasing the frequency of legumes. We will assess if the diversification strategies increase resilience with more diversified income sources and with less use of external inputs.