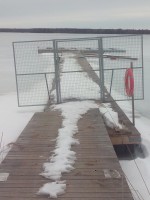 This winter the whole mesocosms infrastructure has suffered from the harsh weather. Due to the strong winds of Alfrida's storm, with gust winds reaching more than 27 m/s, the whole infrastructure was hard shaken and separated in three pieces, which are now pushed into each other by ice stress. Fortunately, no experiments were going on this winter!! We are waiting until the ice melting to properly evaluate the damages and fix the whole infrastructure to be back again for the next season

Don´t miss the chance!
It´s still time to apply to use SITES AquaNet mesocosm infrastructure, More info here.