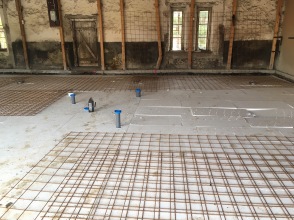 Large scale reconstruction work is currently ongoing at the old barn at Grimsö research station, which has until now mainly ben used as storage, freezer room and for repairing vehicles. The new building will be done by this this summer and host a new game handling facility, improved capacity for sampling in laboratory environment as well as a larger kitchenette for guests and students and has been awaited for in many years. New energy efficient freezers with doubled storage capacity are already in place in an external building.

Picture above: Preparations to mould the concrete base and draw water pipes into the 140 year old barn. Photo: Gunnar Jansson.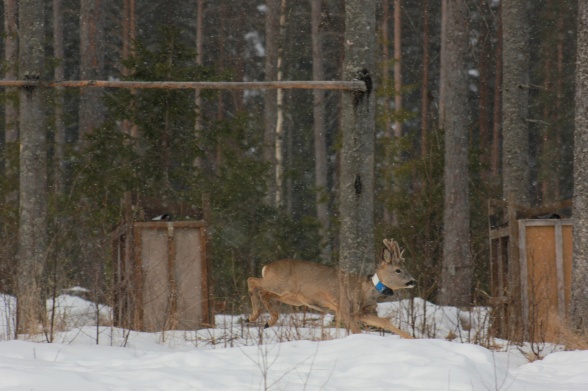 Picture: The Roebuck "Millennium", with traps in the background, that 2013 was number 1000 in terms of marked deer within the Grimsö research station area. Photo: Linda Höglund.

January-March is the most important period for marking deer, one of the long-term data series within the Grimsö wildlife monitoring programs. This data series is unique in the world due to its longevity, starting already in 1975/1976, and probably also in terms of number of marked and followed animals. In January 2019 we had marked in total 1300 deer's including several animals being recaptured every season, which gives new data during the individuals life cycle. The data series includes life history traits, such as size, weight at different ages, as well as kinship between animals in several continuous generations, seasonal- and migration data etc.


During the spring, or rather, as soon as the snow has melted away enough to drive on most of the roads, a couple of news will be introduced in the Grimsö measurement programs in the form of two camera projects. One relates to plant phenology and is part of SITES Spectral, and the other is about continuous surveillance of a selected number of our 600 sampling plots for wildlife and forest data.

When it comes to field work amongst external projects, this time of the year, is for example high season for tracking, catch and marking of big predators (wolf, lynx and wolverine).

We also want to take the chance and welcome Eskil Sveinsen! Eskil is our new co-worker and will mainly focus on service and commissariat for SITES as well as other Grimsö activities.