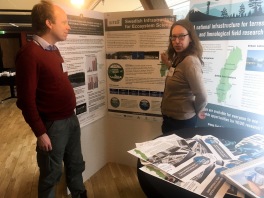 The Swedish Oikos Society, a society for ecologists, conducted its annual conference at SLU in Uppsala. The conference took place between 5 and 7 February and offered exciting lectures, poster presentations and intensive networking.

SITES was represented by director Stefan Bertilsson together with Ulf Grandin and Silke Langenheder (coordinator for SITES AqauNet and station manager at Erken). Many came to visit our corner and Stefan, Ulf and Silke had the opportunity to answer questions about SITES and hand out SITES popular calendar for 2019.

We thank OIKOS for three well-arranged days with interesting discussions.

More about OIKOS here.