Blaize, you started your PhD at Uppsala University working at Erken around the time SITES was formed, when you heard about SITES your PhD research expanded to three SITES stations, and you are now finalizing your Postdoc working with SITES Water at Svartberget.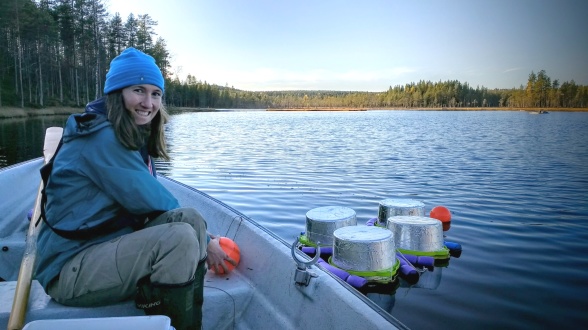 Tell us more about your research and how your PhD and Postdoc projects are connected to SITES.
Inland waters, such as lakes, rivers and streams, play an important role in the global carbon (C) cycle as they receive, transport and process carbon as it travels from the land to the ocean. In turn, inland waters emit a substantial amount of carbon dioxide (CO2) and methane (CH4), both greenhouse gases (GHG), to the atmosphere. My research focuses on understanding how CO2 and CH4 emissions from lakes and streams vary in space and time and how these emissions will be altered in a changing climate.
During my PhD, to better understand how a reduction to lake ice duration impacts GHG emissions from northern lakes, I investigated under ice CO2 and CH4 dynamics in lakes across Scandinavia. Utilizing the SITES research station network, I carried out detailed winter field sampling campaigns and deployed high frequency CO2 sensors in ice-covered lakes at Erken, Skogaryd and Svartberget. Continuing my involvement with SITES Svartberget during my Postdoc, my research expanded to include streams and the non-ice-covered period (I finally learned how to row a boat!). Together with another Postdoc (Anna Lupon), we investigated seasonal (every two weeks) and diurnal (every four hours) CO2 and CH4 patterns across a lake-stream continuum in Svartberget.

You participated at a PhD course located in Svartberget, how did that influence you?
During my PhD, I participated in the first ever Watershed Ecology and Biogeochemistry course in Svartberget. At the course I learned about SITES Infrastructure and the opportunities it provided for PhD research. During the course visit to Stortjärn lake in the Krycklan catchment, myself and another PhD student (Marcus Klaus) began to discuss the possibilities of sampling the lake during winter. After the course I got in touch with different SITES field stations and by winter, my PhD research had expanded from Erken to include Svartberget and Skogaryd. Thanks to the discovery of SITES early on in my PhD, the geographical range of my PhD research broadened, and my scientific network grew.
Advice for PhDs that want to get involved in SITES: Get involved as soon as possible, seek out all possibilities, and don't be afraid to ask for advice or support. - Blaize Denfeld.
How has SITES infrastructure aided your research?
SITES infrastructure has immensely aided my research in several ways. Firstly, SITES infrastructure, providing nearby facilities including shelter and power supply, allowed for lake sampling during harsh winter conditions and dark nights, times of the year and day, respectively, with limited data on GHG dynamics in lakes. Secondly, by sampling at multiple SITES research stations, spanning a climate and land cover gradient, I have had the opportunity to investigate broad geographical research questions. Lastly, SITES, as a network of supportive and collaborative personnel and researchers, has not only aided in making my research more efficient but also more enjoyable.
You have also been part of the group building SITES Water; how has that experience influenced the way you think about research infrastructure and planning/performing research?
During my postdoc I have had the opportunity to help implement the SITES Water lake sampling program on Stortjärn lake in Svarberget, particularly the GHG and C flux lake sampling (Layer 6). In the beginning stages, all field sites met to discuss which sampling techniques and equipment should be used to standardized methods across sites. The time spent discussing these details was important and I am now happy to see SITES Water running efficiently. From this experience, I was exposed to the immense effort and value in coordinating research infrastructure and sampling, including the realization that communication at all stages is the key to success.
You have used the facility of the thematic program SITES Water, how has that been part of your research?
One aim of the SITES Water program is to establish the first long-term and broad-scale inland water GHG and C network, using floating chambers, aquatic sensors and routine water sampling to collect data on CO2 and CH4 emissions. During my Postdoc, I used the constructed floating chambers to measure CO2 and CH4 emissions at a high temporal resolution, every four hours over a 28-hour period. Further, I used the SITES Water (lake and stream) and climate data collected at Svartberget to complement my individual research efforts. In addition to an individual benefit, the harmonized GHG and C network provides an opportunity to compare lake and stream CO2 and CH4 emissions across the region as well as investigate how C cycling may respond to climate change, important aspects of improving global GHG emission estimates from inland waters. Thus, although my research is only a small part, by being part of the SITES network, I can put my individual research in a broader context.


Do you have any preliminary results you can share?
Sure, I am soon finishing up my Postdoc, so I can update you on my preliminary findings from sampling the lake-stream continuum in Svartberget. During my postdoc, we measured CO2 and CH4 concentrations spatially on the lake and in the surrounding catchment every two weeks. We found that CH4 and CO2 in groundwater entering the lake was high in both the forest and mire catchment, yet, mire groundwater had concentrations double that of the forest groundwater. Consequently, in the lake, we saw an influence of the mire-complex, as CO2 and CH4 concentrations were elevated at lake sites nearshore the mire. Some of this CO2 and CH4 sourced to the lake from the mire was emitted to the atmosphere, but thanks to Anna Lupon's work, we also know that some of it ends up downstream. However, Anna's work further shows that the lake only influences CO2 and CH4 dynamics within the top 300 m of the outlet stream, thereafter, groundwater inputs become important sources of CO2 and CH4 to the stream. Taken together, our work has important implications for whole catchment CO2 and CH4 upscaling studies, suggesting that detailed spatial sampling is important to consider in catchments with mixed land cover types and groundwater input zones.
Learn more and contact details: