Stefan Bertilsson, Professor of Limnology, works half-time since mid-January at SLU as SITES new Director. In the interview below, Stefan tells in more about his background and the new mission to drive SITES into the future.
What are your expectations for your assignment as SITES director?
I will do my very best to help build and develop a well functioning and widely used infrastructure for ecosystem-centric research. I will emphasize a high degree of collaboration between our stations but also promote outreach and strategic alliances with other national and international infrastructures. I personally find it rewarding to develop and implement strategies to create productive and lasting collaborations and synergies in both research and capacity building. I also look forward to gain further leadership experience and learn more about the challenges and questions that unites the different activities and capacities that we host within SITES.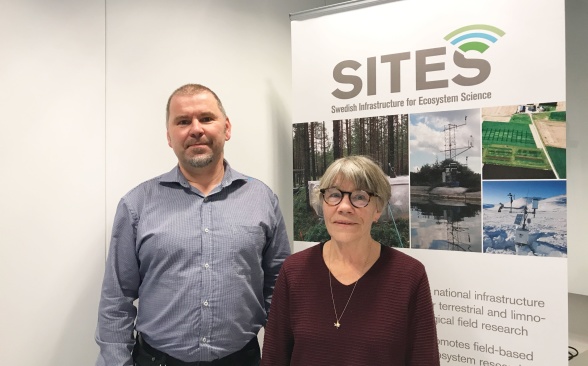 Tell us about your background and when did you knew you wanted to become a researchers?
I grew up in the countryside on a farm overlooking scenic Lake Vättern. Already at young age I was fascinated by natural science in all of its flavors, but it was more of a coincidence that I ended up studying biology at University (I could as well have trained to be a physicist or a chemist). Perhaps it was my passion for water and the many delicious applications of biology that made the difference… Learning to understand and perhaps even master this subject was quite simply irresistible and the path to achieve this was science and research.
Which is your relation to terrestrial/limnic field based research?
As a Professor of Limnology, I obviously study freshwaters in all of its forms. This is not limited to lakes, but also includes aquifers (sometimes at depths of several hundred meters), rivers and wetlands. More specifically, I investigate microorganisms and the ecological and biogeochemical processes that they engage in. Freshwater are of course also interlinked with the surrounding terrestrial landscape and in recent years I have broadened my research scope to specifically address also these systems.
Why are research infrastructures of importance today?
The type of infrastructure provided by SITES enable researchers from different disciplines and organizations to collaborate and learn from one other, thereby facilitating research that is out of reach for the individual scientist. A well functioning infrastructure also means efficient use of limited resources and put the most recent technological advances to use for the good of science.
What will be your strongest contribution to SITES?
Increased visibility and internationalization
Where is SITES in five years?
A coherent distributed infrastructure with an internationally prominent status and broad user base.