In February, Ola Langvall, Pablo Urrutia Cordero, Don Pierson and William Colom met at the Erken Research Station for planning of the installations on the SITES AquaNet platforms.

Don and William showed how water sampling and treatments can be accomplished during winter and icy conditions in the mesocosms, and thereafter the group made a visit to the small island where many of the instruments in the Erken infrastructure are located.

Then the group focused on the datalogger and sensor installations, where communication and programming for sampling and storage of data from the sensors was discussed, as well as how sensors can be placed into the mesocosms. An example of the datalogger/sensor setup will be tested at the Asa Research Station and physical installations of mesocosms, sensors and blenders will be tested in Erken before the AquaNet workshop in late April.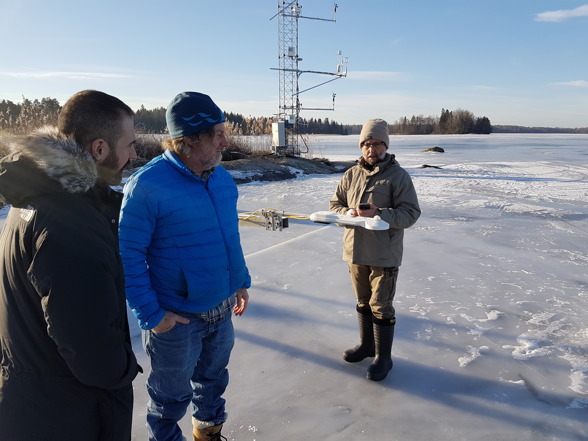 At this meeting all stations will share and discuss the example setups and the final decisions will be taken for the implementation on all platforms.
Upcoming:
Workshop at Erken for all personnel within SITES AquaNet April 19-21.
Previous:
Status
update
on SITES AquaNet.