The Tarfala Lake is one of several objects studied within the SITES water initiative, regarding biogeochemical monitoring of lakes and streams at SITES-field stations. With common practice regarding sampling routines and analytical methods between the stations, a new type of data infrastructure is developed, which provides research opportunities in several unique environments.

The contribution to SITES water from Tarfala is among the more exciting. This spectacular lake is located high up in the Tarfala valley, with direct access to a calving glacier (Kebnepakte), erosion from which was also what originally formed the lake, when the glacier was larger. From summer measurements, the deepest part is 52 meters, and the lake is one of Kalix rivers most important headwaters. With ice thaw in mid-July and ice formation in October, researchers interested in the open water season has a short window for operation.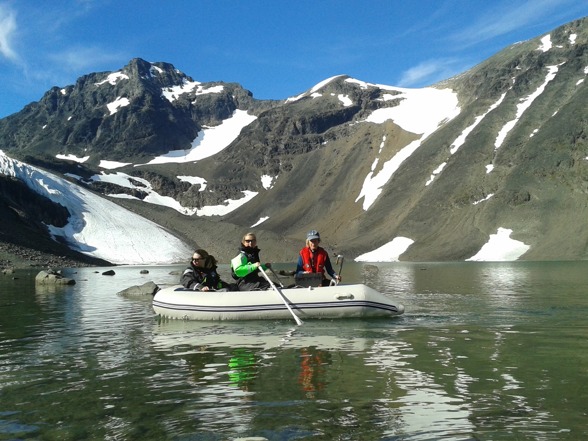 In the light of melting glaciers and a warmer climate, this lake provides unique opportunities to study the development of a lake and it´s ecosystem in a region visibly affected by the changing climate. Changes in biological, chemical and physical parameters in the lake and sediment will all be analyzed.

Initial measurements from this summer indicates that the lake is extremely homogenous regarding conductivity and temperature, at least during summer. Instruments will be mounted and left in the lake during the ice cover period, all this will make it possible to follow variations in certain parameters during the period of ice melt and mixing off the water column, which will take place next summer, says Gunhild Rosqvist.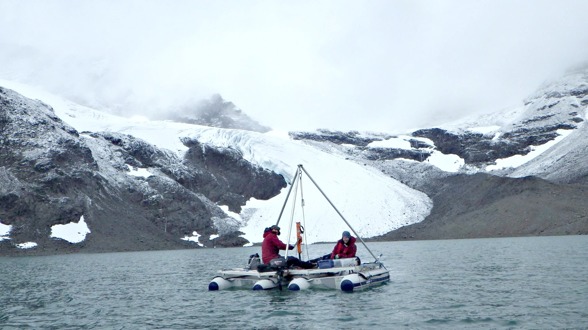 Furthermore, a group of Norwegian scientists visited in early September and cored a five meter long sediment sequence from the lake. This sediment core that might even represent many 1000 years of the lake´s history and possible all the way back to the last ice age. Variations of parameters in the sediment can tell us about how glaciers have reacted to previous climate change.

Also, researchers from the Royal institute of Technology (KTH) will come and test their new instrumentation that will examine the bathymetry of the lake. Later on, they will use the robot in fjords at Svalbard.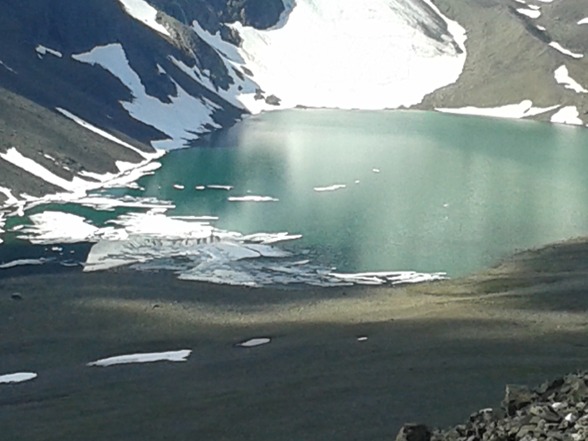 The extreme environment in Tarfala has put high demands on security when working at the lake for sampling and measurements. Water temperature reaches a maximum of 5˚C during summer. When sampling at the deepest part of the lake, the shore is at least 300 meters away, says Torbjörn Karlin. To reduce risks with working in cold water, sampling and workdays are always scheduled during days with low wind speed. All sampling can be performed sitting by at least two people, on a stable rubber boat equipped with flotation gear. The boat has a ladder in case a need to quickly climb onboard would arise. There is also one extra boat at shore. Furthermore, a "trip-plan" is filled out prior to departure for any field work at Tarfala Research Station, stating the safety equipment brought along.