SITES meeting at Alnarp and Lönnstorp
On June 28th, SITES field stations managers gathered for a full day meeting at Alnarp and Lönnstorp hosted by new SITES director Anders Lindroth. Discussions on data handling and the application process regarding the next phase for SITES, was on the agenda. Alex Vermeulen from ICOS (www.icos-sweden.se) gave an introduction to the ICOS carbon portal, and this was discussed as a possible alternative to use for SITES data handling structure. Each station also gave short presentations of their work and projects, focusing on existing SITES-related research, resources and benefits.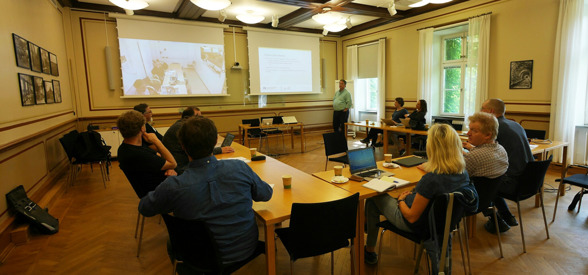 We also got the opportunity to visit the "SITES Agroecological Field Experiment" at Lönnstorp, with interesting research on future cropping systems. Perennial wheat grass and integrated grain-and-lucerne cultivation are two examples that might be part of a future agriculture.